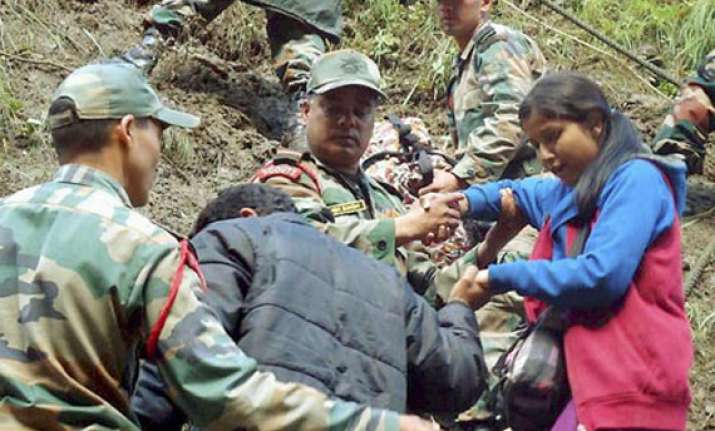 Hyderabad, Jun 28: Andhra Pradesh government has said that 2,782 pilgrims from the state were stranded in the calamity-struck Uttarakhand, while 1,657 others had returned.
Besides, the press release from the Chief Minister's Office here said, 829 pilgrims were "reported safe", but yet to return.
"Those reported safe are either on their way home or staying at different places like New Delhi, Dehra Dun, Hardwar, Horsley Military Camp, Ujjaini, Badrinath, Agra, Ellora Caves, Dakshina Kashi and Rishikesh," the release said.
About 1,549 pilgrims were provided with train and air tickets, it added.
The state government has kept two helicopters ready to airlift the stranded pilgrims.
"Army issued clear instructions that the stranded pilgrims will be transported as per the tokens already issued and airlifting is being carried out according to weather conditions," the release said.
State Civil Supplies Minister D Sridhar Babu, who was camping in Dehradun to monitor relief operations, said only eight pilgrims were staying at the Tirumala Tirupati Devsthanam camp there.
Housing Minister N Uttam Kumar Reddy and Disaster Management Commissioner T Radha were coordinating rescue and relief operations with Army and Air Force officials.
"The Chief Minister, who was camping in New Delhi, spoke to a pilgrim at Badrinath over phone this morning and assured all help. He also reviewed the situation with ministers and senior officials," the release said.
Meanwhile, Chief Minister expressed grief over the death of National Disaster Response Force jawan K Vinayakam who was killed in a helicopter crash in Uttarakhand two days ago. Leader of Opposition N Chandrababu Naidu also expressed grief over Vinayakam's death.
The jawan hailed from Putalapattu in their native Chittoor district.