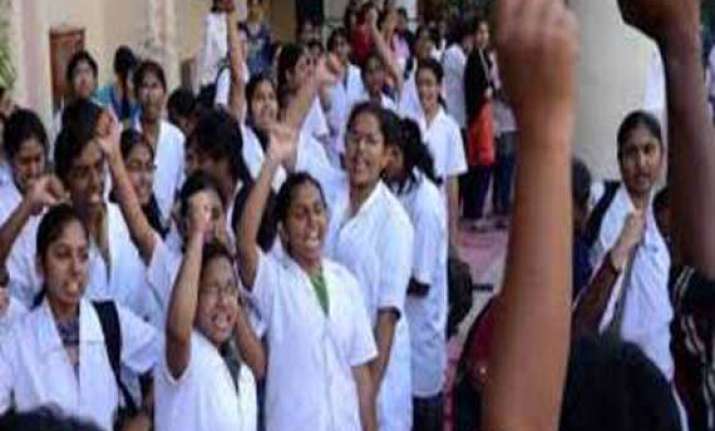 Lucknow : Junior doctors in Uttar Pradesh Thursday agreed to end their protest and resume work but launched a hunger strike, even as the Kanpur police chief was transferred for his raid on a medical college hostel and 24 arrested students were released from jail.
After a directive from the Allahabad High Court, the Indian Medical Association (IMA) Thursday declared that the doctors were returning to work.
The junior doctors initially refused to resume work, demanding that their arrested colleagues be released from jail unconditionally, all cases against them withdrawn and Kanpur Senior Superintendent of Police (SSP) Yashaswi Yadav transferred from the city.
By late evening, Yadav was shunted out of the city and attached to the office of the director general of police (DGP), and the jailed junior doctors were also released.
After a meeting of various associations of junior doctors, it was decided that they will return to work but stage a hunger strike until their demands are met.
Late Thursday, a police complaint against Samajwadi Party legislator Irfan Solanki was lodged by doctors at the Swaroopnagar police station in Kanpur.
A scuffle with Solanki had triggered the statewide strike of doctors. Their peers from AIIMS and Safdurjung Hospital in Delhi had also joined the strike, forcing the state government to begin discussions with the agitating medics.
On the fifth day of the strike Wednesday, the Lucknow bench of the Allahabad High Court took suo motu cognizance of the strike and ordered the transfer of senior police officials of Kanpur. The court also directed the doctors to return to work.
During the strike, at least 69 patients were reported to have died in various hospitals across the state for want of treatment.
The high court also ordered that all doctors injured in a police baton-charge at Hallet Hospital Feb 28 be treated from the money cut from the salaries of policemen involved in the incident.
The court also directed the director general of police to personally supervise investigation of all cases related to the matter.
The 24 students were arrested from their hostel after Solanki was involved in a scuffle with students and junior doctors of B.R. Ambedkar Medical College and Hospital.