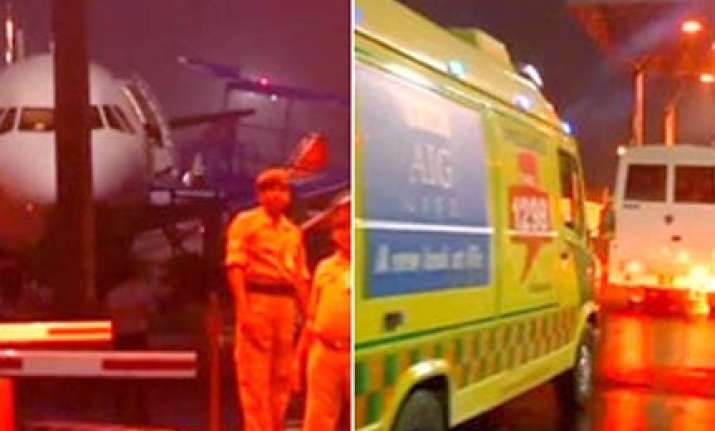 Mumbai: Two pilots and eight crew members of a Jet Airways flight were suspended on Saturday  after 14 passengers sustained injuries when emergency evacuation was carried out following a suspected fire in the aircraft here.  
After a preliminary probe, the Directorate General of Civil Aviation (DGCA) indicated "serious procedural lapses" in the emergency procedures carried out last night by the cockpit and cabin crew, took them off duty and later suspended them.
Those suspended are both the pilots, including the commander, four cabin crew members and four additional cabin crew members.  
"The preliminary fact-finding by the DGCA has indicated serious procedural lapses in dealing with the emergency and evacuation situation as per existing procedures laid down in aircraft rules and regulations, by the operating aircraft crew members of the Jet Airways flight 9W2302," an official statement said here. The DGCA has removed the Cockpit Voice Recorder and the Digital Flight Data Recorder to analyse recordings of voices and other parameters of the Boeing 737 aircraft. 
Jet Airways, however, maintained that the crew of the Mumbai-Chennai flight "initiated a precautionary evacuation on the taxiway due to a suspected fire around the left engine.
"The precautionary evacuation was carried out in the interest of safety of the guests and the crew. The crew carried out the evacuation in accordance with standard operating procedures. Subsequent inspection of the engine has indicated that there was no fire," the airline said.  
The DGCA said it was treating the incident as "serious" and added that a formal investigations would be carried out by a team comprising Director Air safety Mumbai, Flight Operation Inspector and Cabin Safety Incharge of DGCA. 
The regulator has also called for a meeting of the heads of training of all airlines to review the training procedures of cabin and flight crews, particularly in emergency and evacuation procedures.  
141 passengers, including an infant, on board were deplaned using emergency chutes and services after the pilot reported fire in one of the aircraft's engine when it was on the taxiway for take-off. As there was a sudden surge of passengers during evacuation, over 25 of them received injuries. PTI