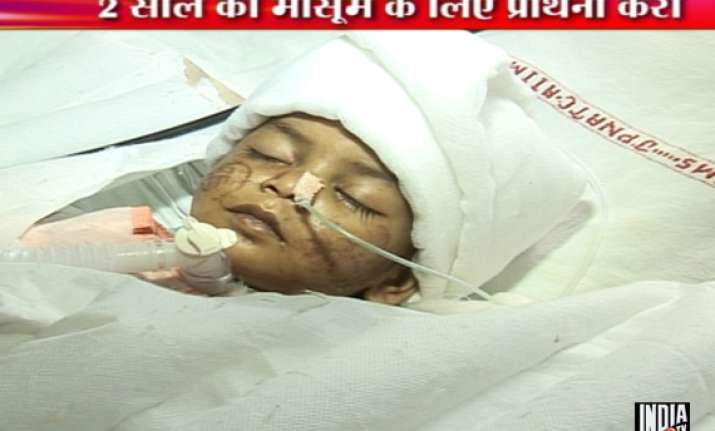 New Delhi Jan 26: Delhi police have taken into custody  the 15-year-old girl who brought a badly bruised two-year-child to AIIMS Trauma Centre claiming the kid to be her daughter.
 
Police have also detained her associate Sunil from Mahipalpur, but the father of the kid Raj Kumar is absconding.
 
Police is interrogating the girl, who said a housemaid had kept the girl at the house of a 'beldar'. It is now certain that the girl is not the mother of the child, police said.
 
Safadarjung Enclave police station records show a two-year-old girl  was kidnapped.
 
The  two-year-old abandoned girl  Falak is fighting for her life in the AIIMS Trauma Centre here with her arms broken, cheeks branded with hot iron and a permanent damage to her brain due to head injuries, doctors said.
 
Abandoned, with human-bite marks all over her body, Falak is in the  neurosurgery ICU for the last three days.
 
She was brought in on January 18 by a teenaged girl, who claimed to be her mother. The mobile phone number she gave is switched off.

The address turned out to be a paying guest accommodation in southwest Delhi.
 
The girl told the hospital authorities that the baby, who flits in and out of consciousness and is on ventilator support, was injured in a fall from the bed.

The nature of injuries, which needed immediate surgery, doesn't back the claim. 

"The injuries suggest that the baby was battered mercilessly, with her head smashed, probably against a wall," said Dr Deepak Aggarwal, a neurosurgeon with the trauma centre.  The behaviour of the "mother" raised suspicion.

"The girl didn't appear to be more than 15, and did not even know the baby's age," said a social worker, who volunteers at the hospital, according to Hindustan Times.

"She could not answer any of our queries about the baby satisfactorily," said the volunteer, who didn't wish to be identified.

The hospital informed the police, who presented the girl to the child welfare committee. She has been sent to a juvenile home.

The police have registered a case but have not been able to trace the baby's parents or family.

But she is not about to give up. "Despite her injuries, there is still a 50% chance of her survival," said Dr Aggarwal.