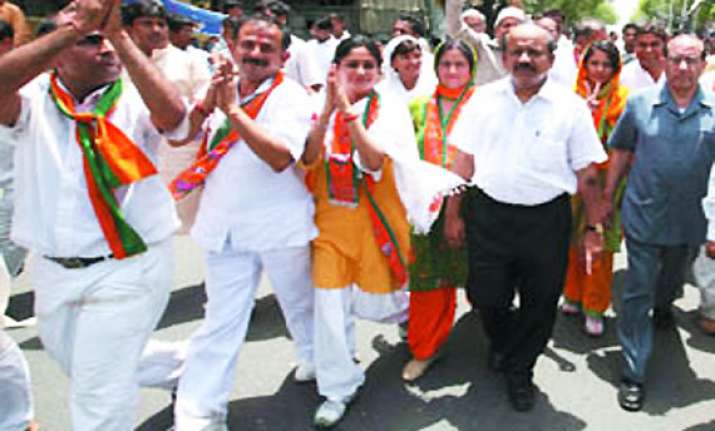 New Delhi, Mar 27: The turmoil in Delhi BJP over ticket distribution for municipal polls intensified today with a prominent local leader resigning from the party alleging that the state leaders were promoting "corrupt and dubious" people at the cost of genuine workers.
Jagdish Mamgain, MCD Works Committee Chairman who was denied ticket for the April 15 polls, sent a letter to national president
Nitin Gadkari
resigning from the primary membership of the party.
His resignation came close on the heels of at least six BJP leaders filing nominations against official party candidates soon after the list of candidates were officially announced.
Mamgain, who joined BJP in 1981, alleged that Delhi BJP chief Vijender Gupta's wife and a relative have emerged as "parallel power centre" in the state unit. Gupta could not be contacted for his comments on the allegations.  
"Honest and mass based party councillors and office-bearers have shown the door. There are serious charges of selling party tickets to tainted people or their family members at the cost of genuine party activists," Mamgain said.  
In his letter to Gadkari, Mamgain alleged the state leadership were "promoting corrupt and dubious peoples in the party and ruling MCD. The party for which we suffered attack by police and worked hard for the expansion is unfortunately in the process of declining".
Gupta, who managed to get a party ticket for his wife Shobha, was in the eye of a storm as party workers staged demonstration outside his house protesting against the way in which candidates were selected.
Delhi Mayor Rajni Abbi will be the most prominent figure to face rebel trouble as state BJP secretary Narender Tandon, who rose in ranks through ABVP, chose to file nomination against her in Mukherjee Nagar ward.
Sitting councillor Vijay Pandit is fielding his wife Seema as INLD candidate while other councillors like Harish Awasthi and Prabha Singh have filed their papers against official BJP candidates from Rohini and New Ashok Nagar respectively.
Facing a mutiny from within the party, Gupta appealed to party workers to put up a united front during the campaign while promising that those who were left out in the electoral fight will be rewarded suitably.
"We will use the merit of those capable candidates who have not been given tickets for other purpose because BJP is such a party where there is enough scope for work.  Here only that candidate progresses who has patience, is discriplined and hard working," Gupta said in a statement.  
Gupta said the party received around 7,000 applications for the 272 wards and after "detailed and intensive discussions", only those candidates "who are popular and has a clean image" were selected to fight the elections.  
"In distributing tickets, local and other equations have also been taken into consideration so that every BJP candidate may give a strong fight to Congress candidates and emerge victorious," he said.
He said BJP has brought in new faces and it includes Ankita Saini, a 22-year-old woman, who has been fielded from Hauz Khas ward.
"We are trying to give representation to all the sections of society in distributing tickets without any discrimination. There is large number of capable candidates in the BJP," he said.