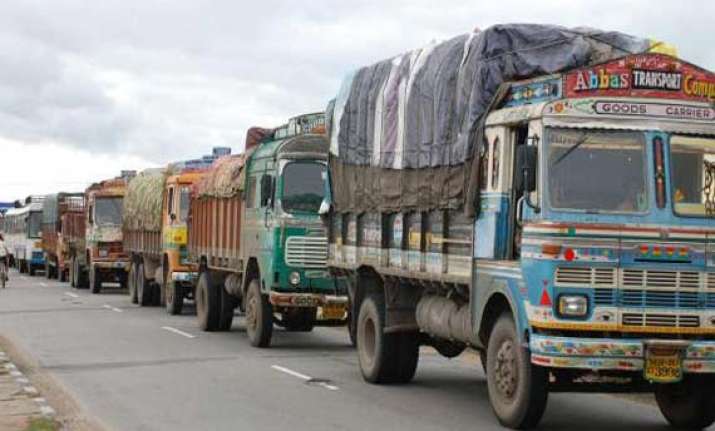 Mumbai: Truck drivers in Maharashtra withdrew their proposed state-wide indefinite strike from tomorrow after a late night intervention by the Chief Minister's office (CMO) over their key demand.
Earlier in the day, truckers associated with All India Motor Transport Congress (AIMTC) had given an indefinite stir call from Wednesday to demand abolition of escort fee.
"The Chief Minister's Office intervened late tonight and requested us to defer the strike by one month. They have assured us that escort fee will be abolished within a month.
After considering the new development and a written assurance from the Government, we have decided to give them one more month and deferred the state-wide strike as of now," AIMTC president Bal Malkit Singh told PTI.
If the State fails to abolish the fee within a month's time, no assurance from the Government will stop the truck drivers from going on an indefinite strike, he asserted.
"AIMTC has been invited for a meeting with the Chief  Minister and Transport Minister tomorrow to hold further discussions on the issue," Singh said.
Nearly 20 lakh truck drivers across Maharashtra had decided to stop plying their vehicles after talks between their representatives and the Government over abolition of escort fee ended in a stalemate.
An escort is a person who accompanies a truck on behalf of a local municipal authority to ensure that goods entering an area are not off-loaded within that municipal limit without paying the requisite fees. Every truck operator has to spend an amount as escort fees, though there is no octroi in the state, with the exception of Mumbai.
The transporters had organized a demonstration at Azad Maidan, South Mumbai on July 2 in support of their demand.
A strike by transporters would have disrupted supply of essential goods, adversely affecting traders and general public who are already reeling under the impact of rising prices of necessary items.