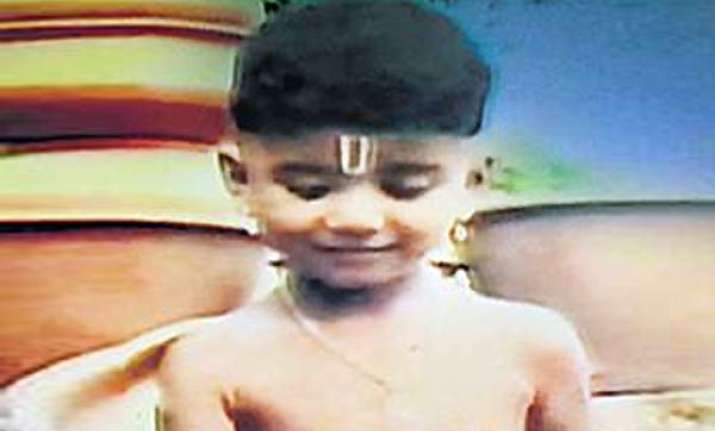 Bangalore, Jun 29 : Karthik, a seven-year-old student studying in Class Two hanged himself inside his school classroom on Monday and succumbed in a hospital the next day, DNA reports.

Police said, the image of his uncle hanging by a rope in his Bangalore home six months ago remained etched in seven-year-old S Karthik's memory. Watching the body of his school cook, who recently committed suicide by hanging, made him even more curious about death. The standard II student kept asking his cab driver father what it would be like to commit suicide before ending his life in a case of copycat suicide.

Karthik, a student of Nelamangala government primary school, Bangalore, tried to hang himself with a belt in his classroom on Monday while the other students and teachers attended the prayer assembly in the quadrangle.

When the teachers went to the classroom, Karthik was unconscious — hanging with his belt tied to the window grill. He was taken to the Matrushree hospital, but he breathed his last on Tuesday.

Investigations have revealed that Karthik, who loved watching crime serials, suffered an emotional shock after he saw his uncle Ravi Kumar's body.

 Karthik was also distraught after his teachers took his classmates and him to the school's mid-day meal cook Usha's house after she committed suicide by hanging.

"We are investigating the matter and have registered a case about the incident," said S Prakash, circle inspector, Nelamangala. "His parents said Karthik spoke about hanging for the past three days."

"There is a high chance that this child was suffering from depression. This could also be a result of pure imitation," Dr MJ Thomas, consultant psychiatrist at Sagar hospital, told DNA.

Dr Shubhangi Parker said: "If he was asking about suicides, his parents should have handled it with care and sought professional help."