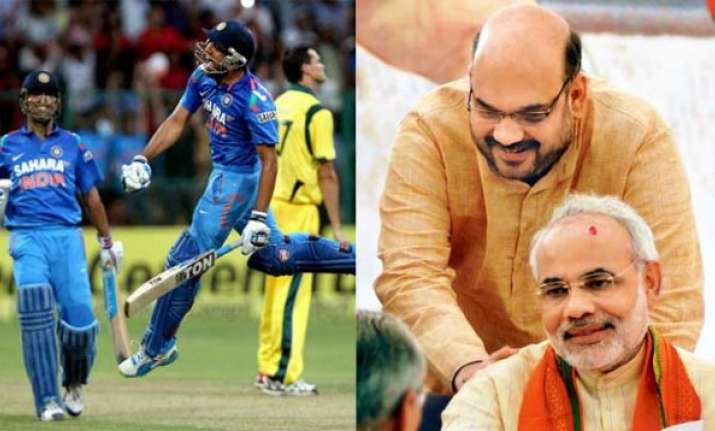 India to meet Australia in semi final today
In yet another crucial encounter, India will today face the co-hosts Australia on their home ground at Sydney Cricket Ground (SCG) in the second semifinal of World Cup 2015.
Modi-Nitish likely to meet today at CMs' meet on Ganga
In his first ever formal interaction, Bihar chief minister Nitish Kumar is likely to meet Prime Minister Narendra Modi today at the chief ministers' meeting on Ganga action plan.
J&K CM Mufti to visit Delhi today
Mufti Mohammad Sayeed, the J&K Chief Minister in the collision government of BJP and PDP, will today visit the national capital to attend a meeting of the Sub Group of State Chief Ministers.
The CMs' group is constituted in the NITI Ayog, to rationalise the centrally- sponsored schemes.
Jat reservation: Delegation to meet Modi- Shah today
A delegation will today meet Prime Minister Narendra and BJP president Amit Shah in the national capital to discuss on Jat reservation, said Union Minister Birender Singh.
The meeting is scheduled to decide on the next course of action in the wake of a recent Supreme Court order canceling the reservation granted to Jats under the OBC category.
Four 'commercial courts' to function in Delhi HC from today
Delhi High Court will have four dedicated "commercial courts" functioning from today to ensure the speedy disposal of pending commercial cases.
These four benches will deal with matters involving commercial disputes relating to intellectual property rights, arbitration, insurance, banking, financial institutions, taxation, companies cases, among others.
CSI National Convention from today
A two-day CSI Annual National Convention - IT for IT-2015 - will kick start from toady at the Gateway Hotel. The event is organized by the Visakhapatnam Chapter of Computer Society of India in association with Visakhapatnam Steel Plant.