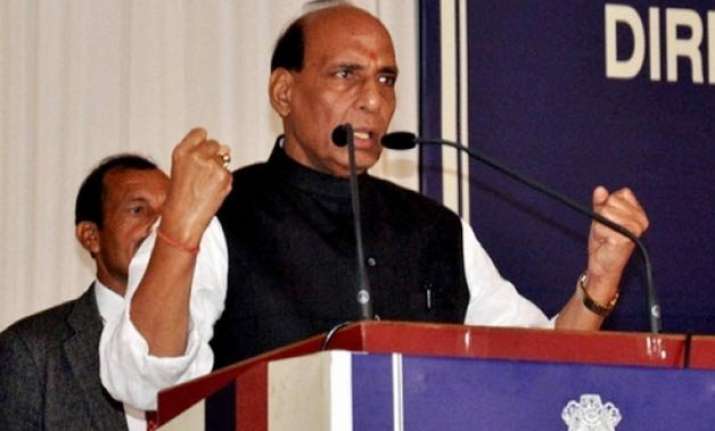 Home Minster Rajnath Singh to visit Jammu
Jammu:
Union Home Minister Rajnath Singh will today visit Jammu to attend 'Jan Kalyan Parv', an event to highlight one-year achievements of Prime Minister Narendra Modi-led government at Centre.
BJP President Amit Shah to visit Surat
Surat: BJP National President Amit Shah will today reach Surat for his one day visit to the city of Gujarat. He is expected to address a rally of party workers during the course.
Rahul to interact with fishermen in Kerala
Thrissur: After his meeting with the farmers across the country, Congress vice-president Rahul Gandhi will today interact with the fishing community and rubber growers in Kerala.
Priyanaka Gandhi to visit Raebareli
Raebareli: Priyanaka Gandhi will today visit mother Sonia Gandhi's constituency Raebareli. She will pay the visit to various villages and will interact with the party workers. Congress President Sonia Gandhi is scheduled to visit the constituency on Thursday.
Manohar Parrikar to visit Raipur for public event
Raipur: Defence Minister Manohar Parrikar will today visit Chhattisgarh capital Raipur on Wednesday to inaugurate an exhibition-cum-fair showcasing the achievements of Narendra Modi-led NDA government.
Manmohan Singh to inaugurate 2-day NSUI meet
New Delhi: Former Prime Minister Manmohan Singh will today inaugurate a two-day convention of Congress students' wing NSUI here which will also see party vice-president Rahul Gandhi address its concluding session. Singh would inaugurate the marquee event, 'Drishtikon', at 11 AM at the Mavlankar Hall here.
TDP's annual conclave from today
Hyderabad: The TDP's annual conclave will begin here from today and efforts to emerge as a national party, the welfare and development programmes undertaken by the party government in Andhra Pradesh and its opposition role in Telangana would be among the main agenda.
AIIMS Coordination Committee calls for Jammu bandh
Jammu: AIIMS Coordination Committee, an amalgam of more than 70 social, religious and political organisations, has called for a day-long Jammu bandh on May 27 over the shifting of AIIMS from here.
BJP to highlight works done in Kashi
Varanasi: Bharatiya Janata Party will today disclose the development works done in past one year regime of Prime Minister Narendra Modi in his parliamentary constituency, said minister of state for railway Manoj Sinha on Sunday. He highlighted the works of railway ministry during meet the press event here on Sunday.