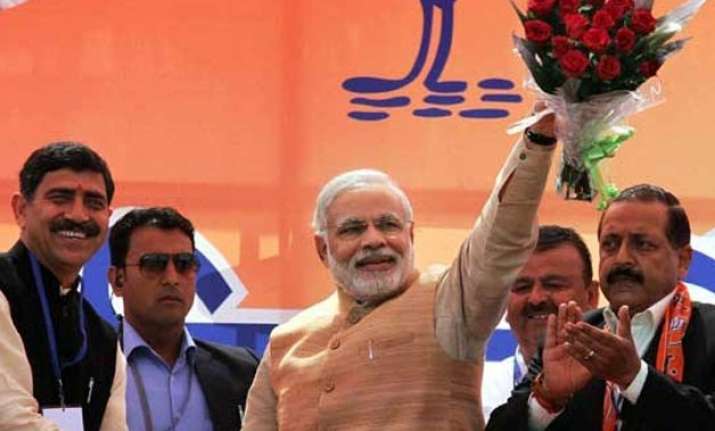 1. PM Modi to address mammoth gathering in Mathura
Mathura/Agra: PM Narendra Modi will be visiting Mathura today to commemorate the completion of a year of the NDA government.
Modi will address a mammoth gathering in Nagla Chandrabhan, the native village of Jana Sangh leader Deen Dayal Upadhyay and most likely to announce the much awaited implementation of the One Rank One Pension scheme tomorrow
2. Congress to conduct 23 press conferences
Delhi: The Congress party is scheduled to hold 23 press conferences today across the country.
P.Chidambaram is in Delhi, Jitin Prasad in Shimla, Shakeel Ahmed in Chandigarh, Dipendra Hudda in Dehradun, Jairam Ramesh in Varanasi, CPjoshi in Guwahati, Raj Babbar in Ranchi, Rita Bahuguna in Bhopal, RPN Singh in Ahmedabad, Ajay Makan in Kolkata, PL Punia in Jalandhar, Sharmishta Mukherjee in Thiruvananthapuram
3. CM Kejriwal to address public meeting to mark AAP's 100 days
New Delhi: To mark the AAP Government's completing 100 days in power in Delhi, Chief Minister Arvind Kejriwal will today address a public meeting at Central Park in Connaught Place. He will highlight the achievements of the state Government during this period.
4. FM Arun Jaitley to interact with top tax officials
New Delhi: Finance Minister Arun Jaitley will today address the annual meeting of the Income Tax Chief Commissioners in the national capital. The key government priority areas to be discussed in meeting include bringing non-adversarial tax regime, expeditious settlement of tax-payer grievances and expansion of tax base.
5. IAS Officers' Association to discuss Issue of Delhi Chief Secretary Appointment
New Delhi: The central Indian Administrative Service or IAS officers' association has called a meeting tomorrow to discuss the ongoing controversy over the appointment of Delhi's acting chief secretary.
6. Maoists call Bihar-Jharkhand bandh from today
Ranchi: CPI (Maoist) has given a call for two-day Bihar-Jharkhand bandh beginning today to protest against the killing of Bihar Jharkhand North Chhatisgarh Special Area Committee member Sarita Ganjhu in an encounter with security forces on Jharkhand-Bihar border on May 17.
7. Salman Khan to attend sister's reception in Mandi
Shimla: Actor Salman Khan and his family would taste the traditional 'Kangri dham' at Mandi today as the entire Khan family would attend the reception of Arpita, younger sister of Salman Khan.
Arpita is married to Ayush Sharma, son of state panchayati raj minister Anil Sharma.