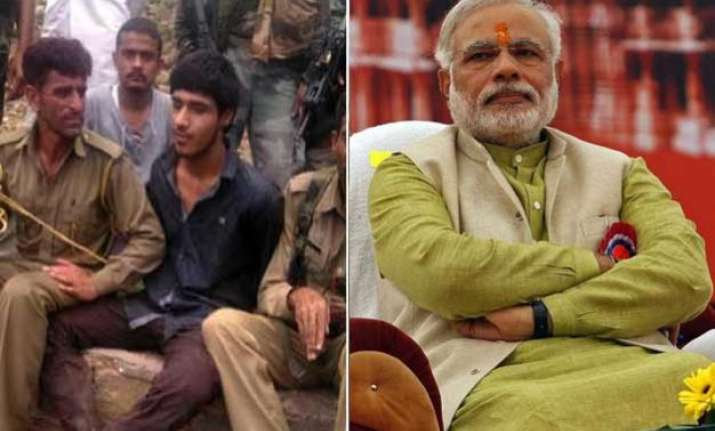 New Delhi:
The National Investigation Agency (NIA) today took over the case of yesterday's Udhampur terror strike in which a Pakistani terrorist, who was caught alive by villagers, has said that he had undergone training in two different modules with Lashker-e-Taiba terror group.
A team of NIA, a central probe agency created after the 2008 Mumbai attack, headed by Inspector General Sanjeev Kumar Singh, has been camping in Jammu since yesterday and has visited the site of the encounter, official sources said.
However, rejecting the claims made by Indian authorities, Pakistan today said that arrested terrorist Mohammad Naved is not its citizen.
The Islamic country also denied any involvement in the Udhampur attack.
New Delhi:  Four months after it gave a cold shoulder to a proposed visit by Prime Minister Narendra Modi to Brussels, European Union has invited him for the long-pending India-EU summit just before or after the G-20 summit scheduled to be held in November in Turkey.
The European Union had not responded to India's proposal for a brief visit by Modi to Brussels, the headquarters of the 28-member powerful bloc, during his trip to France, Germany and Canada in April.
New Delhi: Congress President Sonia Gandhi today slammed the Modi government over the Naga peace accord, accusing it of not taking chief ministers of north eastern states into confidence and said it showed its "arrogance".
Opening another front against the government, Congress leaders Sonia and Rahul Gandhi, who have been protesting against the suspension of 25 Congress MPs from Lok Sabha, charged that the voice of the three states of Manipur, Assam and Arunachal Pradesh is being "suppressed".
New Delhi: Union External Affairs Minister Sushma Swaraj today broke her silence on Lalitgate in Lok Sabha and vehemently refuted the charges of corruption made against her.
"I didn't ask the UK government to do favours for Lalit Modi. I merely acted on humanitarian grounds," she said while making a statement in Lok Sabha in absence of major opposition parties.
Nottingham, England:  England paceman Stuart Broad took 8-15 as Australia collapsed to 60 all out in 94 minutes on the first day of the fourth Ashes test on a remarkable morning session at Trent Bridge on Thursday.
Seeking a victory to clinch the series, England put the Australians in to bat in overcast conditions and had them at 15-4 after 16 balls in 14 minutes, with three batsmen — Chris Rogers, David Warner and recalled Shaun Marsh — out for ducks.