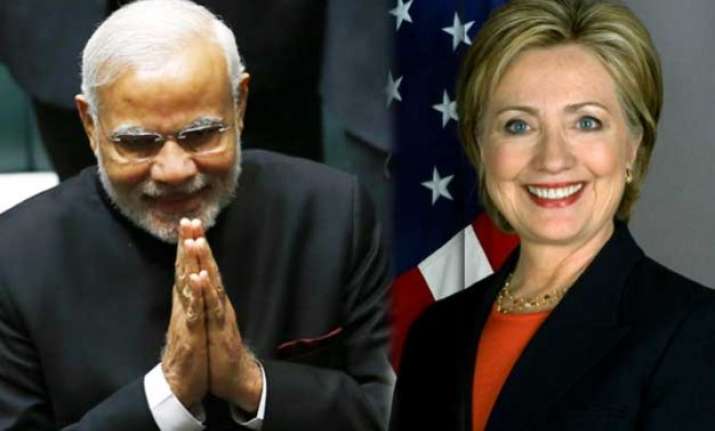 In the fourth Naxal attack in the last three days in Chattisgarh, Maoists tried to blow up a mine protected vehicle (MPV) in Dantewada district, killing 4 and injuring at least 7 security personnel.
The blast took place near Cholnar, about 25 kilometres from district headquarters of Dantewada in tribal Bastar region of the state. All the injured are being brought to district hospital.
Wooing investors from Germany and the rest of the world, Prime Minister Narendra Modi yesterday promised a welcoming business environment in India with a "predictable, stable and competitive" tax regime and asserted that the "remaining uncertainties" will be addressed.
He said the task of turning around the systems in India is "huge" and will not be completed overnight but stressed that the government is firmly moving in that direction and it will be done.
Stoking a controversy, the Shiv Sena today demanded that voting rights of Muslims should be revoked as the community has often been used to play vote bank politics.
The Sena also compared All India Majlis-e-Ittihadul-Muslimeen (MIM) and Owaisi brothers with "poisonous snakes" who spew venom to "exploit" the minority community.  
However, BJP today lashed out at its key ally for demanding the withdrawal of voting rights from the Muslim community.
Supreme Court has recently ruled that couple living-in together will be presumed as legally married and consequently the woman would be eligible to inherit the property of her partner after his death.
The ruling was passed by the bench of Justice MY Eqbal and Justice Amitava Roy in a property dispute.
Former Secretary of State Hillary Clinton today announced her 2016 US Presidential bid, emerging as one of the top contenders for the Democratic party nomination as she once again seeks to become America's first woman President.
The one-time first lady enters the race seven years after her bitter nomination defeat to President Barack Obama and the announcement is expected to trigger a donor deluge from a vast network of supporters who have long waited for her to officially enter the 2016 presidential race.  "I'm running for president.