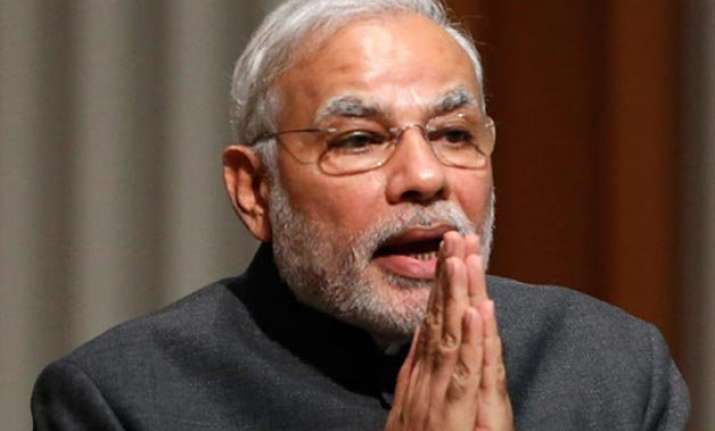 1. PM Narendra Modi to deliver special Address at Conference on National Panchayati Raj Day
Prime Minister Narendra Modi will today deliver a Special Address at Conference on National Panchayati Raj Day. The inaugural address will be given by Union Minister of Rural Development and Panchayati Raj Birender Singh.
Whereas Minister of State for Panchayati Raj Nihal Chand will deliver the welcome address at 09:30am, Plenary Hall, Vigyan Bhavan
2. Kedarnath gates to open for pilgrims from today
Lord Shiva's Kedarnath Dham will be opened from today.  The holy shrine will be opened from 8:30 am onwards for the pilgrims.
3. Rahul Gandhi to attent Maha Aarti at Kedarnath
Rahul Gandhi will today attend the Maha Aarti as gates of Kedarnath shrine will be opened for the pilgrims. The Congress vice president will also analyze the arrangements made my state government for the pilgrims. He will be accompanied by varied senior state congress leaders.
4. Kailash Kher's date with Kedarnath on April 24
Singer Kailash Kher, whose musical notes echo originality, is set to mesmerise people of Kedarnath in Uttarakhand today. The "Teri deewani" crooner says he is excited to perform at the holy place.
5. AAP leader Sanjay Singh to meet farmer Gajendra Singh's family
AAP representative group lead by leader Sanjay Singh will today pay a visit to late Gajendra Singh's village in Dausa District Rajasthan. The AAP group will meet the farmer's family and express their condolences for the irreversible loss.
6. Rajnath Singh to visit Bihar tomorrow
Rajnath Singh, Ravishankar Prasad and Sushil Modi will do aerial survey of cyclone affected areas of Purnea. They will arrive at Chunapur airport at 11am.
The central ministerial team will take stock of the situation in storm affected districts of the state and after that will hold a press conference at 3pm.
7. GST bill likely in Lok Sabha
With most states on board, the government proposes to take up for consideration and passage a Constitution Amendment bill in the Lok Sabha today to roll out the Goods and Services Tax (GST).
8. Foreign travel disclosure: Jaitley to meet business chambers on new I-T rules
Finance Minister Arun Jaitley is likely to meet business chambers today to get their views on new income tax returns form, after the government faced flak over it seeking details on bank accounts and foreign travel.
9. VHP, Bajrang Dal call for 'Jammu Bandh' over AIIMS issue
Lashing out at the BJP-PDP coalition government for its "discriminatory" attitude, VHP and Bajrang Dal had called for 'Jammu Bandh' today.  
The Hindu outfits protesting against the shifting of proposed AIIMS from Jammu to Kashmir Valley.
10. Geelani calls for protests against PSA on Alam
Hurriyat Conference chairman, Syed Ali Geelani called for peaceful protests after day's prayers over slapping of Public Safety Act (PSA) on Masarat Alam Bhat.
He condemning the decision and called for a state wide protest strike on Saturday against it.
11. Farmers rally against land bill at Jantar Mantar
Left-wing farmers' organization, All India Kisan Mazdoor Sabha (AIKMS), plans to organize a protest rally toady, against the government's proposed land law that it says is meant to benefit "real estate business and corporate houses.
12. Documents leak case: Delhi court to hear bail pleas
A Delhi court is scheduled the hear bail pleas of two accused arrested in the case in which classified government documents were allegedly procured and passed on to others.
13. Adarsh scam: SC to hear Ashok Chavan's plea
In a brief reprieve to former Maharashtra Chief Minister Ashok Chavan, the Supreme Court orally asked the state to inform the trail court not to proceed with his trial proceedings till it hears his plea to appeal an order of the Bombay high court
14. High-stake mayoral polls in SDMC
Stage is set for an even contest in the high-stake mayoral poll today in the BJP-led South Delhi Municipal Corporation, where Congress has pitted a former mayor against a senior leader of the ruling party.
15. Sachin Tendulkar turns 42 tomorrow
Iconic former Indian captain Sachin Tendulkar will turn 42 today. Around 16 months ago, the little master stepped out of cricket's arc-lights by bidding adieu to the game.
Tendulkar's heart-touching farewell at the Wankhede Stadium at the conclusion of the 2013 India-West Indies Test series is still fresh in his admirers' mind.