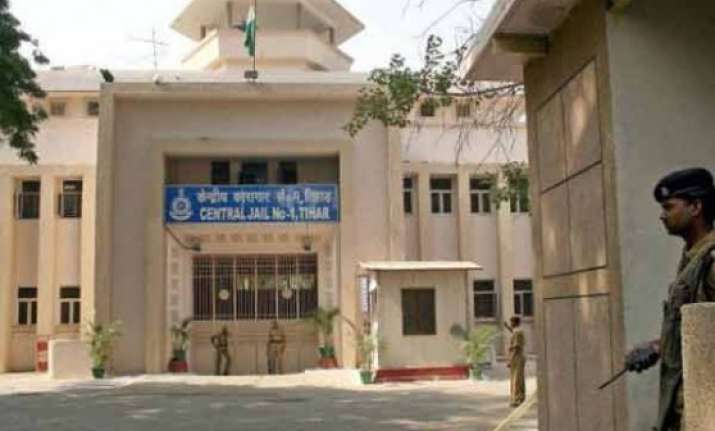 New Delhi: Tihar Jail authorities have decided to raise the height of the prison's boundary walls besides enhancing other security measures, after SIM cards and surgical blades were found hidden inside various articles which were flung from outside of the facility.
A top official of the high-security jail said restricted items were found in the premises of jail number one, eight and nine which are close to the boundary walls of the jail.
"Recently we have found articles like tennis balls, socks and small packets lying in the compound of the jails. A closer examination of these confirmed the intention behind the act. Cellphone parts, SIM cards, blades and tobacco were found hidden inside such items," the official said.
Jail number one houses many eminent VIP inmates including Sahara chief Subrata Roy. Jail number 8 and 9 are adjacent to the busy Jail Road.
The areas where the banned items were found are those where inmates are allowed to move during their routine intervals.
"As a primary initiative we are raising the height of the boundary walls by 4-5 feet to restrict entry of any such item. The work is being taken care by the PWD officials here," the official said.
Many such articles have also been seized recently from the inmates' possession and appropriate actions against those found using them have also been taken.
"We can't cover the entire jail. Some way or the other is found by the notorious elements out there to disrupt the peaceful life of the inmates. If raising the boundary walls doesn't help, we are also planning to put high nets on them to further increase the height," the official said.
Following this, the superintendents of these three jails have been ordered to closely supervise the work of raising the boundary walls.
"Smuggling these banned items through the gate is almost impossible as there is a multi-layered checking at the gates of every jail," the official said.
To further enhance the vigil on the inmates, the number of CCTV cameras will also soon be doubled in Tihar.
"Right now there are around 500 CCTV cameras installed and we are planning to raise the total number up to 1000 plus at least to further tighten the vigilance," he said.