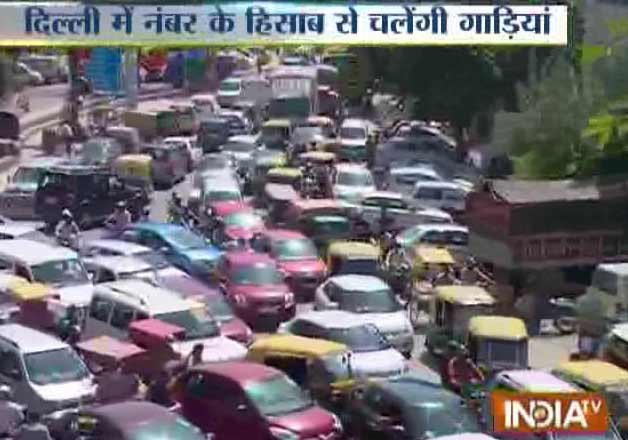 New Delhi: Days after the Delhi High Court rapped the Centre and the Delhi government saying that living in Delhi was akin to "living in a gas chamber", the city government came up with a unique solution that allows cars with even and odd numbers to only ply on alternate days.
While the new order is expected to stoke a mixed response, take a look at ten things you need to know on the matter:
1. From January 1 to 15, odd-numbered cars will be allowed to run only on odd dates and even-numbered cars on even dates.
2. The restriction will apply between 8am and 8pm and from Monday to Saturday. Sunday will be exempted from the restriction.
3. During the fortnight period, two-wheelers, women drivers accompanied by children up to the age of 12 and CNG-certified vehicles will be exempted under the scheme.
4. Ambulances, fire vehicles, prison vehicles, cars carrying physically disabled people or people on way to hospital for medical emergency will not to be stopped. However, they will have to carry proof with them.
5. SPG protectees, vehicles of the Leaders of Opposition in Lok Sabha and Rajya Sabha, Supreme Court and Delhi High Court judges will not be covered under the scheme.
6. Vehicles and convoys of the President, Prime Minister, all state Chief Ministers, except for Delhi, are exempted.
7. All public and private schools in Delhi to remain closed during the trial.
8. Violators of the odd-even rule will be fined Rs 2000. Violators may also be denied parking facilities in the city. They could even have their vehicles towed away.
9. The Delhi government will run 3,000 additional buses on the capital's roads to help commuters. Delhi Metro will also scale up its services in view of the odd-even vehicle drive of the state government.
10. Around 8.5 million vehicles ply on Delhi's roads and 1,400 new cars are added every day. Of the 85 lakh vehicles in Delhi, 55 lakh are two-wheelers and 30 lakh are four-wheelers.