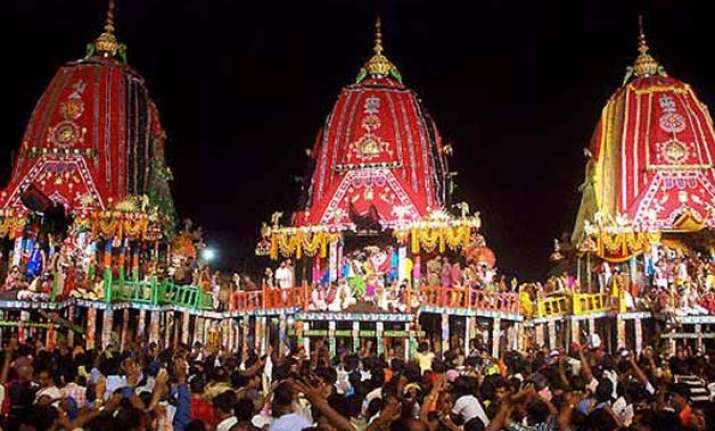 Today marks the beginning of the millennium's first Nabakalebar Rath Yatra when the new idols of Lord Jagannath, Lord Balabhadra and Devi Subhadra started their journey to nearby Gundicha Temple.
In Oriya language, Nabakalebar means new body.
The deities got one too early this year in March before starting for their aunt's home (Mausi Maa Temple), where they will stay for the next nine days.
A year with an extra Ashadha month of Hindu Calendar is considered auspicious for conducting the Nabakalebar ceremony. This usually occurs every 12 to 19 years. The last time this happened was in the year 1996 preceded by the year 1978 and 1969.
According to the traditions, the idols are carved of wood from holy trees which are searched by temple priests and search team members. The trees are traced during their stopover at Kakatpur, the abode of Goddess Mangala, with the support of a divine dream. Rituals which lead to the Nabakalebar of Lord Jagannath are carving of idols, transfer of Lord Brahma from an old to a new idol and the sacred burial of the lords.
As stated in the holy Geeta; "Just as one gives up worn out clothes and puts on new ones, even so does the embodied self give up decrepit bodies and enters new ones," The Lord Jagannath is believed to be a reflection of human life ensconcing all its facades.  
To make this event a seamless one, the Odisha Government has worked extensively toes to ensure everything including, crowd management, law and order, health issues, transport, parking are taken care of.
Lakhs of devotees have flocked the city of Puri to witness one of the biggest festivals.