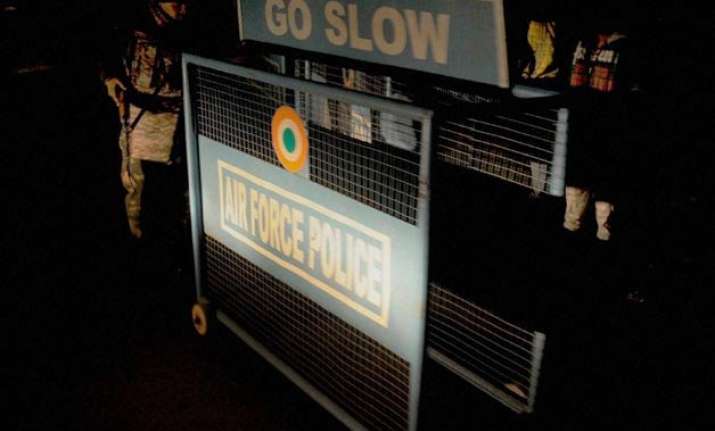 New Delhi: Fresh information coming out of the Home Ministry points to some crucial revelations in the modus operandi adopted by the terrorists in Saturday's attack on the Pathankot air base in Punjab.
According to sources in the Home ministry, the six militants who carried out the attack entered the Pathankot air base in two teams and not one. While one team of four entered the air base
Superintendent of Police P Salwinder Singh's SUV is believed to have been used by the terrorists to avoid detection of the Jammu-Pathankot highway. The police official was accompanied by his friend Rajesh Verma, a jeweller, and Verma's cook Madan Gopal.
The SP was briefly held captive by the militants before the attack.
However, investigations into the attack have revealed that while four militants entered the air base after the abduction of the police official, two others who were part of the second team had managed to sneak in before them.
According to the Home ministry sources, jeweller Rajesh Verma revealed during questioning that handlers for the terrorists were asking them why the second group of attackers had fallen behind.
"Four terrorists were speaking to their handlers in Pakistan," Verma reportedly said. The terrorists were then asked by their handlers, "Tum abhi tak andar kyun nahi gaye, do to andar jaa chuke (why haven't you gone inside, two have already gone inside)."
Sources, meanwhile, added that the level of training of the Pathankot terrorists seems even better than that of the Mumbai 26/11 attackers. It is clearfrom the tactics that these terrorists have employed that a professional army had trained them, they said.
The terrorists used all the tactics of professional fighters like conserving firepower, attacking at 3 AM when the level of alertness is at its lowest and going quiet to give the impression that all the attackers had died. All these tactics are of military precision, the sources said.
With the driver of the Toyota Innova vehicle, Ikadar Singh, having been picked up by the terrorists from a spot near Gulpur-Samboli, 5km away from the International Border, it is being suspected that they crossed the border near that area. The terrorists had later killed the driver.
The National Investigation Agency (NIA) which is probing the attack on the Pathankot air base, will also be investigating the abduction of the SP and the murder of Ikagar Singh, 30, a taxi driver.
Meanwhile, reports coming from Pathankot suggest that all six terrorists have now been neutralised by security forces.
Six terrorists are believed to have crossed over into India on the intervening night December 30-31; they then entered the air force base, which houses nearly 1,500 families and includes large forested areas. The firing began early on Saturday morning.
The combing operations in the Pathankot air base premises continue in the vast expanse of the air base, which is also home to the families of the Air Force personnel.
(With PTI inputs)