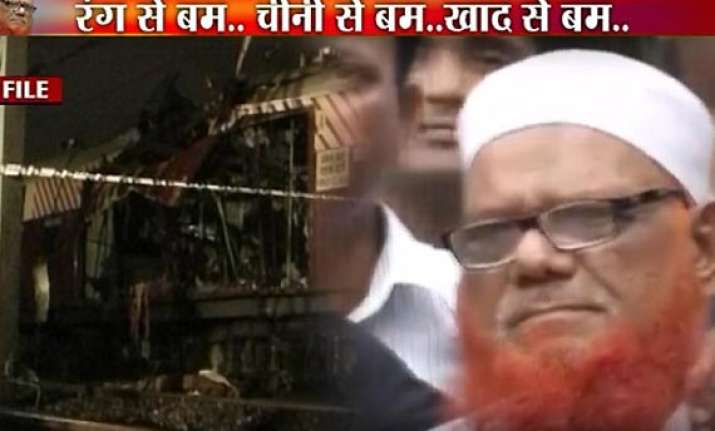 New Delhi:  Delhi Police has arrested Abdul Karim Tunda alias Abdul Quddooss, one of India's top 20 wanted terrorists, and mastermind of over 40 bombings in the country, from Indo-Nepal border.
70-year-old Tunda, an expert bomb maker of terror outfit Lashkar-e-Toiba, was arrested yesterday at around 3 PM from the Banwasa-Mehendarnagar border with Nepal, and brought to Delhi.
Tunda was one of 20 terrorists India had demanded the Pakistani government to hand over after the 26/11 Mumbai terror attack.
This list includes Laskhar-e-Taiba chief Hafiz Saeed, Jaish-e-Mohammed chief Maulana Masood Azhar and Dawood Ibrahim, amongst others.
Police said Tunda was wanted in 21 cases in Delhi alone that were committed in 1994 and in 1996-1998.  They said Tunda had trained young indoctrinated youths in preparing bombs with locally available materials like urea, nitric acid, potassium chloride, nitrobenzene and sugar, and planting them at crowded places to cause maximum casualties.  
He was carrying a Pakistani Passport No AC 4413161 issued on 23 January, 2013 in the name of Abdul Quddus, Special Commissioner of Police (Special Cell) S N Shrivastava said addressing a press conference.
Abdul Karim Tunda worked as a carpenter, scarp dealer and cloth merchant till he attained the age of 40 years before becoming a radicalised jehadi militant.
His younger brother Abdul Malik (a carpenter) is reportedly the only immediate family member alive in India.  There were conflicting reports over the circumstances in which Tunda was arrested, with one police source claiming that he was deported from a Gulf country.
Another source said that Tunda left Karachi around ten days ago and reached Kathmandu via Dubai.  Intelligence agencies were tracking him from Dubai and gave a tip-off to the Special Cell of Delhi Police, which finally nabbed him yesterday from the Indo-Nepal border.  
Tunda was produced before a duty magistrate early in the morning here today. The court sent him to three day's police custody.
"Abdul Karim Tunda is a well known LeT explosive expert/terrorist wanted for his role in 1993 Mumbai serial train blasts, Delhi bomb blasts of 1997-98 and serial bombings in the state of Uttar Pradesh and also at Panipat, Sonepat, Ludhiana, Hyderabad etc," said Shrivastava.  
Tunda is reportedly also wanted in several cases of serial blasts in trains in Hyderabad, Gulbarga, Surat and Lucknow on December 5 and 6, 1993, he said.  Shrivastava said that Pakistan trained Laskar-e-Toiba terrorists, belonging to Pakistan and Bangladesh, had carried out 24 explosions in Delhi, 5 in Haryana and 3 explosions in Uttar Pradesh on the instructions of Tunda.  
"Tunda had planned to carry out bombings in and around Delhi in 2010 at the time of the Commonwealth Games, but the plan was timely thwarted with the arrest of his accomplices who were supposed to carry out the attack," said Shrivastava.  
The CBI had charged Karim with organising LeT's major terror attacks outside of Jammu and Kashmir—a series of 43 bombings in Mumbai, Hyderabad, Delhi, Rohtak and Jalandhar in which over 20 persons were killed and over 400 injured.  
"Nicknamed Tunda for his handicapped left arm, the terrorist is closely associated with Lashkar-e-Toiba (LeT)/ISI in Pakistan. Tunda, in early 1980s, was initiated into terrorism by the ISI.
"In March 1985, while Abdul Karim was in Mumbai in connection with his trade, there were communal riots in Bhiwandi," said Joint Commissioner of Police (Special Cell) MM Oberoi.
Karim's left hand got severed in an accident while he was preparing a bomb, and this later earned him the feared nickname 'Tunda', said Oberoi.
"In Mumbai, Abdul Karim Tunda met and befriended one Dr Jalees Ansari. Both Abdul Karim and Ansari constituted their own Tanzeem namely 'Tanzeem Islah-ul-Muslimeen (Islamic Armed Organisation for the Improvement of Muslims).  
"Another top LeT militant, Azam Ghouri, had joined the Tanzeem floated by Ahl-e-Hadis to avenge the Babri Masjid demolition incident," said Oberoi.
In 1993, Tunda and Ansari had set off a series of explosions in Mumbai and Hyderabad and seven separate bomb blasts on trains. After Jalees's arrest in January 1994, Tunda fled to Dhaka, capital of Bangladesh, police said.
"In Dhaka, Tunda started imparting training to Jehadi elements in bomb making. He also stayed in Pakistan, where he is known to have imparted training on fabrication of IED and other explosives to Mujahids, who are sent to India from Pakistan for Jehad," said Oberoi.
He returned from Dhaka to India to mastermind the deadly 1996-1998 blasts. In almost all the blasts in Delhi during 1996-98, Tunda's men, who were from Pakistan and Bangladesh, had detonated bombs using pencil batteries, he said.
The most devastating of these blasts was in a crowded private bus at Punjabi Bagh in Delhi in December 1997. The blast occurred when the bus, running between Ajmeri Gate and Nangloi, had reached Rampura in Punjabi Bagh.  Four commuters were killed in the blast and 24 others sustained injuries.
"Tunda is known to and worked with Hafiz Saeed, Zakiur Rehman Lakhvi, Wadhawa Singh, Ratandeep Singh, Karachi based IM absconders, Abdul Aziz alias Bada Sajid and others. He is well known to Dawood Ibrahim," said Oberoi.
Describing Tunda, against whom an Interpol Red Corner notice was issued in 1996, the security agencies say he would be able to throw some light on Lashkar-e-Toiba's operations in India.
According to the police, Tunda was also the mastermind of the series of bomb blasts in New Delhi, Panipat, Sonepat, Ludhiana, Kanpur and Varanasi between December 1996 and January 1998.
Subsequently, Tunda had reportedly fled to Pakistan via Bangladesh, from his home in Ghaziabad (1998).  The breakthrough for the police came with the arrest (February, 1998) of Tunda's two Bangladeshi 'students', Mato-ur Rehman and Akbar alias Haroon, from Sadar Bazar railway station, New Delhi, police said.
Delhi Police later arrested 24 other members of the module, including Tunda's confidants, Kamran and Shakeel.  "The hunt for Tunda had temporarily died down in 2000 when it was believed that Tunda had been killed in a blast in Bangladesh.
"Meanwhile, Tunda's continuing involvement came to notice in August 2005 when Abdul Razzak Masood, an alleged LeT chief coordinator in Dubai (UAE), arrested by the Special Cell of the Delhi police, disclosed that Tunda was alive and he had met him in Lahore in December, 2003," said Deputy Commissioner of Police (Special Cell) Sanjeev Kumar Yadav.