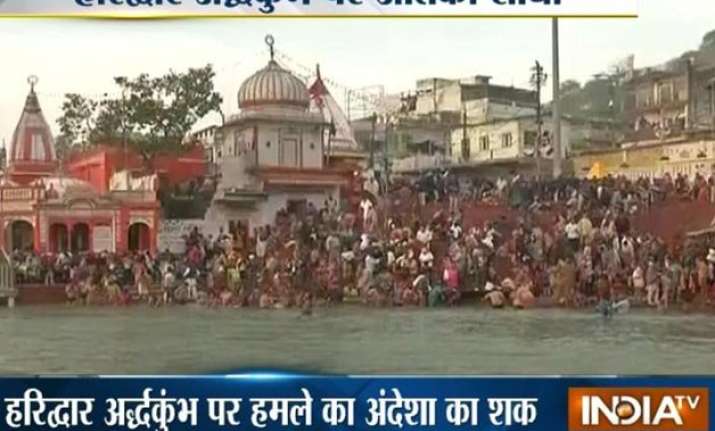 New Delhi: Acting on a tip off that terrorists are planning to target the ongoing Ardh Kumbh Mela in Haridwar, the Special Cell of Delhi Police in a joint operation with a central intelligence agency on Tuesday arrested four suspected terrorists from the state.
While one person, who is said to be associated with an international terror group, was arrested from Roorkee, the remaining 3 were nabbed Mangalaur area near Dehradun.
According to police, the man arrested from Roorkee has been identified as Akhlaq. He will be brought to Delhi today where police will produce him before a court. He is said to be associated with an international terror group.
The presence of four suspected militants has set alarm bells ringing as lakhs of devotees are arriving in Haridwar to take a holy dip in river Ganga. The Ardh-Kumbh Mela started on January 1 and will end on April 30. Over 5 crore pilgrims are expected to visit Haridwar to bath in river Ganga.
Police said that they are interrogating the three friends of Akhlaq to establish further links and are also conducting search operations throughout Uttarakhand.
The suspects are believed to have been planning an attack at the ongoing Ardh Kumbh Mela in Haridwar, a police source said.
Akhlaq will also be questioned in connection with the recent terror attack at Punjab's Pathankot, sources said, adding that he is believed to have links with terror outfit Pakistan-based Jaish-e-Mohammed (JeM).
The arrests have come a day after the arrest of Al-Qaida in Indian Subcontinent (AQIS) operative Abu-al-Sami from Mewat in Haryana. Sami, who belongs to Jamshedpur in Jharkhand, according to police, has provided some important details about terrorists plan to strike around Republic Day.
On January 6, the Special Cell had arrested Maulana Anzar Shah, a cleric from Bangalore, for alleged links with AQIS. In December, they had arrested three suspected AQIS operatives.