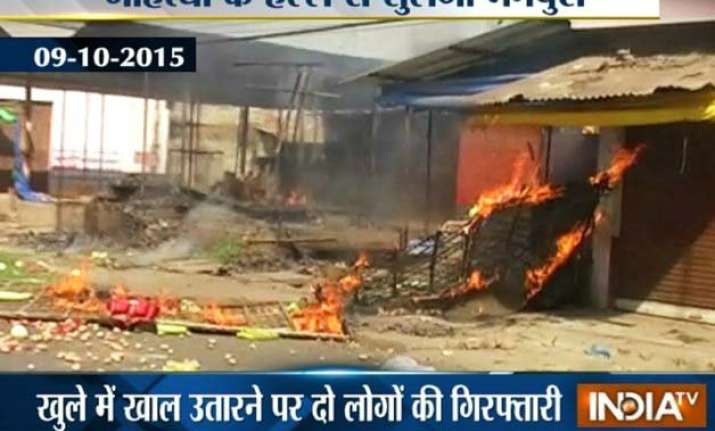 Mainpuri: At least 21 people have been arrested in Uttar Pradesh's Mainpuri after protesters clashed with the security forces in the region over rumours of slaughtering of a cow by two Muslims.
Police said that people in Nagaria village had yesterday set police jeeps on fire and damaged several other vehicles as they agitated over allegation of killing of a cow in the village.
It was alleged that a cow, which was grazing in a field near the village, was whisked away for slaughter and its skin was being removed in a house when some villagers barged in, the police said.
Sub-Divisinal Magistrate of Karhal, Vijay Pratap, however, said that post mortem report of the cow confirmed that the cow was not slaughtered but died a natural death.
District Magistrate Chandrapal Singh said that heavy police reinforcements were rushed to the area and senior district officials were monitoring the situation.
The situation was under control and DIG, DM and SP were camping at Karhal with heavy police force.
Meanwhile, Samajwadi Party leader Shivpal Yadav said attempts were being made to vitiate atmosphere in Karhal.
"Attempts are being made in Karhal (Mainpuri) to vitiate communal atmosphere. We are ensuring arrest of those involved in the incident," he said.
Yadav also said that Samajwadi Party was fighting communal forces for a long time and would continue doing so.
Mainpuri is the pocket borough of the Samajwadi Party and its chief Mulayam Singh Yadav has represented it in the Lok Sabha many times.