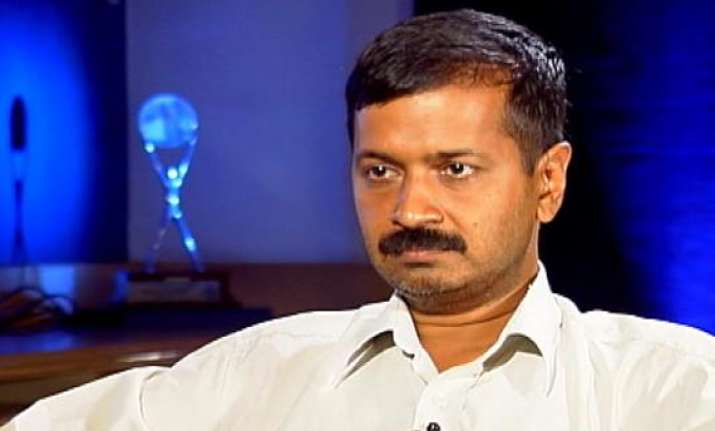 New Delhi, Jun 5: For the first time, Team Anna will have a new mascot in its posters with Arvind Kejriwal's images being used in campaign material seeking support for its indefinite fast from July 25.
One of the four posters has the image of Kejriwal alone while in another he shares space with Anna Hazare. The 74-year-old activist's picture is used in only one poster.  None of the other activists appear on any of the material.
The campaign 'The Enemies of Jan Lokpal' on India Against Corruption website was launched today after Hazare announced that his team will tour the country to educate people about the corruption charges against Prime Minister Manmohan Singh and other Ministers.
Kejriwal's picture also finds a place along with Hazare in a press release issued by Team Anna which talks about the country-wide campaign ahead of the indefinite protest from July 25.
The prominence given to Kejriwal, one of the architects of the movement, is viewed as his increasing role in the movement. The other prominent members of the team are Shanti Bhushan, Prashant Bhushan, Kiran Bedi, Justice Santosh Hegde and Medha Patkar.
It also came two days after he was publicly snubbed by yoga guru Ramdev during his protest for taking names of politicians and attacking them.
Kejriwal is also being given prominence during the countrywide tour. Out of the 11 programmes announced by Team Anna, Kejriwal will be attending six functions in Hyderabad, Jodhpur, Indore, Kangra, Rohtak and Patiala.
Only Gopal Rai will be attending more programmes (ten) than him.  Kiran Bedi and Prashant Bhushan are attending two each programmes. Bhushan is out of town while Bedi has other commitments.
Last month, a prominent member of Team Anna Shivendra Singh Chouhan, who designed the social networking campaign of the movement, had alleged that Kejriwal had asked him to promote himself heavily on twitter and social media.  Chouhan levelled this allegation in a letter sent last month to Kejriwal.
He also alleged that Hazare's schedule for Maharashtra was posted on Facebook and Twitter, managed by him, much before it appeared on website of IAC which is managed by Kejriwal's team.
"On the day Anna started tour of Maharashtra, I got in touch with Suresh Pathare and asked for the complete schedule, it was promptly sent and shared on social networks. It was shared on FB on May 2 while uploaded on India Against Corruption website on May 10.
So, who was ignoring Anna's tour of Maharashtra, social network or the website managed by Kaushambi office (of Kejriwal)?" he said in the letter.