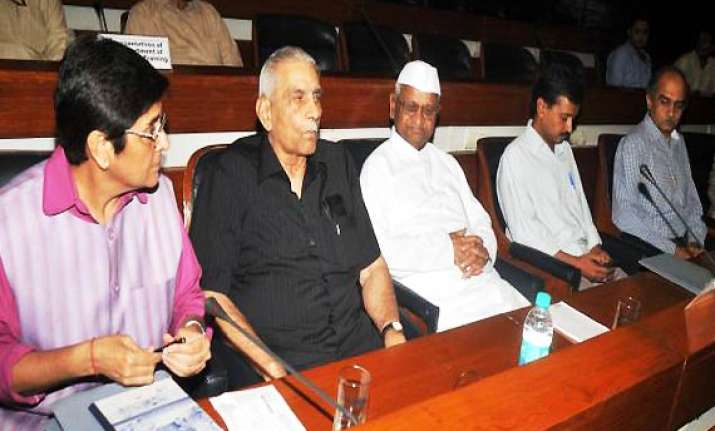 New Delhi, Nov 22: Team Anna today expressed its willingness to de-link citizen's charter from the proposed anti-corruption ombudsman provided that a separate bill on the lines of the one in Uttarakhand be introduced in Parliament along with the Lokpal Bill.

The activists led by Anna Hazare have been demanding that citizen's charter should be part of the Lokpal Bill and they provided two options for the government—implement the resolution of Parliament and include the charter in Lokpal or bring a strong grievance redressal bill.

"If the government wishes to bring a separate bill to deal with citizen's charters, we request that the Uttarakhand model for the same should be adopted wherein the citizen's charters have been provided through a separate bill. 

"However, the violation of the same by various levels of officers in the same department is required to be strongly dealt with by judicial officers. In Uttarakhand, these judicial officers are selected, appointed and controlled by Lokayukta," a Team Anna statement said. 

Claiming that the draft Public Grievances Redressal bill provides for a highly centralized system which is bound to collapse under its own weight, they said the Parliament resolution stated that three key issues would be addressed through the Lokpal Bill.

"However we are surprised that contrary to that resolution, the government proposes to exclude citizen charter from Lokpal's jurisdiction and bring a weak and ineffective bill to deal with citizen's grievances," they said.

On its new proposal, Team Anna said the Public Grievance Commissions should "never be burdened" with the work of hearing appeals as that system is bound to collapse under its own weight.