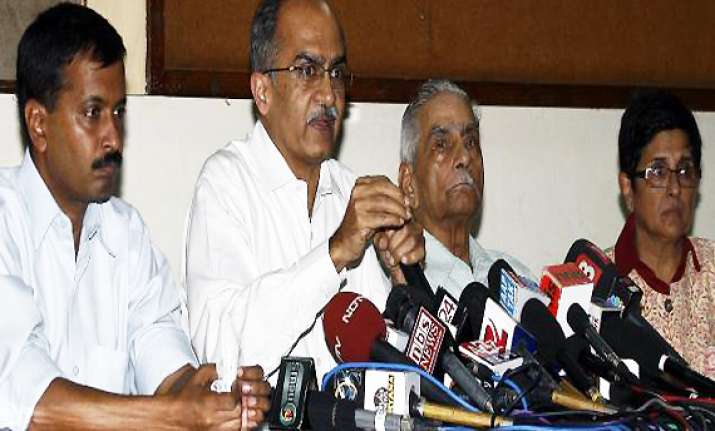 Hisar, Haryana, Oct 8: Team Anna member Arvind Kejriwal today lashed out at the RSS saying that the saffron organisation should take credit for the 2002 Gujarat riots instead of claiming credit for the Jan Lokpal movement.
 
Kejriwal was talking to newspersons here in course of his campaign against Congress in the Hisar Lok Sabha bypoll.
 
Kejriwal said, the Jan Lokpal movement is run by Indians and only Indians will take credit for the movement.
 
He was replying to RSS chief Mohan Bhagwat's speech on Dussehra in Nagpur in which he said that RSS volunteers had openly taken part in the Jan Lokpal movement.
 
Reacting to Kejriwal's remark, a spokesperson of RSS said the organisation is not in the business of taking credit. The swayamsevaks of RSS always work in the national interest, he said.
 
In course of his speeches in Hisar, Arvind Kejriwal also lashed out at the Congress saying that if the Jan Lokpal bill is not passed by Parliament by November, Team Anna would campaign against the Congress in the UP, Punjab and Goa assembly polls.
 
Kejriwal went to the extent of saying that his team members would then work for the "decimation" of Congress in the forthcoming elections if the Jan Lokpal Bill is not passed. The time has come to teach the Congress a lesson, he added.
 
He called on the voters of Hisar to inflict a "historic defeat" on Congress in the byelection.
 
He asked the voters in Hisar not to vote for Congress as the party had refused to extend support to the Jan Lokpal Bill.
 
In Uchana Kalan, some Team Anna members were roughed up by Congress supporters when they criticized the party over the Jan Lokpal Bill issue.
 
Hisar is going to polls on October 13.