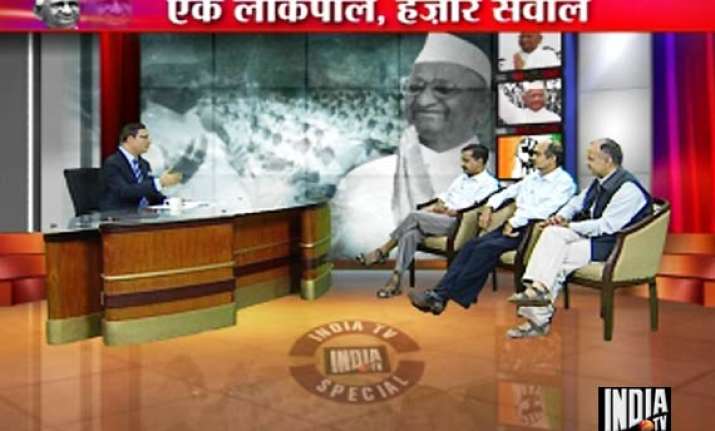 New Delhi, Nov 22: Team Anna on Tuesday expressed concern at the recommendations being finalized by the standing committee on law and justice for the Lokpal Bill, saying they were contrary to the resolution passed unanimously in Parliament.

Speaking with Rajat Sharma on India TV's special show 'Ek Lokpal, Hazar Sawaal', Arvind Kejriwal said, "This resolution clearly stated that three issues would be addressed through the Lokpal Bill namely, Lokayuktas in states would be created through the same bill, lower bureaucracy and citizens charter would be included in the this bill."

"However we are surprised to notice that the government proposes to exclude citizen charter and lower bureaucracy from Lokpal's jurisdiction and bring a weak and ineffective bill to deal with citizens grievances," he said.

Demanding inclusion of Group C and D employees under the ambit of Lokpal, Prashant Bhushan said they strongly oppose the move to exclude the lower bureaucracy.

"Would this mean that they could indulge in corruption and they would not be investigated by any agency? Aren't we giving them a license to indulge in corruption?" asked Bhushan.

On the issue of keeping CBI out of Lokpal's control, they said the Standing Committee proposal on the agency would reduce Lokpal to merely a post office—receive complaints, forward it to CBI, receive CBI's report and present it before the court.

They also demanded that criminal investigation of judges, which has been left out of Judicial Accountability Bill, should now be included in the Lokpal Bill.