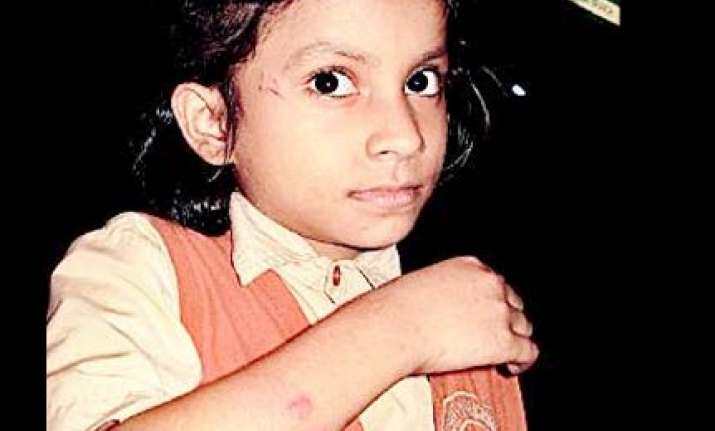 A seven-year-old student of Bombay Public High School, Powai, was beaten by her class teacher for not doing her homework, reports Mumbai Mirror.  
Isha Singh, a student of Std II came home from school crying and told her grandmother about the incident. She had bruises on her legs, hands and face. Isha lives with her uncle and grandmother in Powai, while her parents are in Lucknow.  
"My class teacher got furious when I told her that I had not finished my homework. She picked up a steel scale and started hitting me," said Isha, as she showed badly bruised legs and hand.  
She said, her class teacher, Geeta, even slapped her, leaving behind a deep gash on her cheek.  
When Isha narrated the incident to her grandmother, they went back to school to find out more about it.  
"My mother went to the school and confronted the teacher about the incident, she was told that Isha had not done her homework and deserved to be beaten," said Subhash Singh, Isha's uncle.  
Irked at this attitude of the teacher, the family went to the Powai Police Station, where initially they were asked to go away.  
It was only when a mob of 50 residents from Morarji Nagar, where the family lives, gathered outside the police station that the police decided to act. "I am too scared to go back to school," said Isha.  
L B Singh, chief trustee of the school, admitted that an incident of corporal punishment had taken place in his school.
"The police will do their job. On our part, we have decided to suspend the teacher. We will conduct a meeting of all the teachers and educate them on how to deal with students and not hit them. Such incidents will not be tolerated in my school," said Singh.
Police has still not filed any complaint of assault against the teacher. "We are still filing a case. Once we are done, we will initiate action against the teacher," said Ashok Jadhav, senior inspector of Powai Police Station.