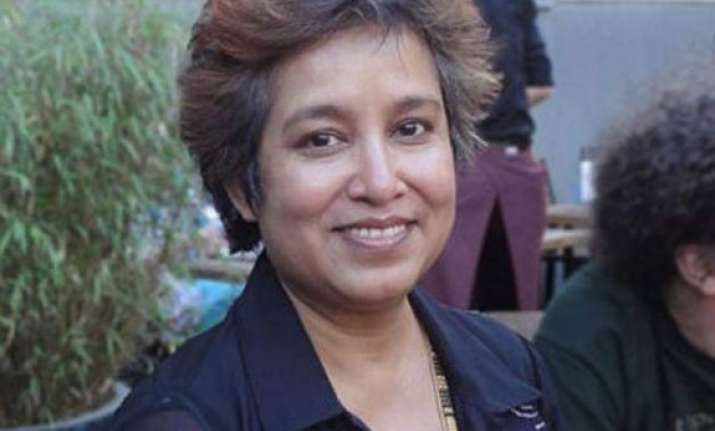 New Delhi: On a day when Pakistani singer Adnan Sami was granted Indian citizenship by the Home Ministry, a large number of fans of Bengali writer Taslima Nasreen took to social media and requested Prime Minister Narendra Modi to consider granting her Indian citizenship.
On Thursday as news came about Pakistani singer Adnan Sami getting Indian citizenship, the Bangladeshi writer, in response to a fan's comment that probably Adnan was a bigger celebrity, tweeted: "That's bad."
Another fan tweeted: "Adnan Sami gets Indian #citizenship. Why not @taslimanasreen? Will you please explain it @narendramodi, @BJPRajnathSingh, @SushmaSwaraj?"
On a news report that the Centre was not granting Taslima's request for a permanent resident permit because of her writings whereas Adnan Sami was uncontroversial, the Bengali writer tweeted: "it is quite funny".
Taslima further tweeted: "Bcoz I write books opposing inequalities, injustices, religious fundamentalism, Islamic terrorism, misogyny ---I'm called 'controversial writer'."
Taslima Nasreen had to flee Bangladesh in 1994 after Islamic fundamentalists issued fatwa against her for writing against Islam and Prophet Mohammed.
She first took refuge in Kolkata, but the then Left Front government in 2007 expelled her. She was whisked her away to Delhi by security agencies after a local Muslim cleric issued a fatwa against her. A large number of Islamic fundamentalists had staged violent protests in Kolkata at that time.
Undaunted, the Bengali writer first moved to Sweden, then to New York. She later returned to New Delhi, where she is staying under police security. Her residential permit is being extended every year despite requests from several quarters that she be granted Indian citizenship. Her current residential permit expires in August this year.
Taslima is on top of the hit list of Ansarullah Bangla, a fundamental Bangladeshi outfit, two of whose members were sentenced to death by a Dhaka court on Thursday on charge of axing a blogger to death.