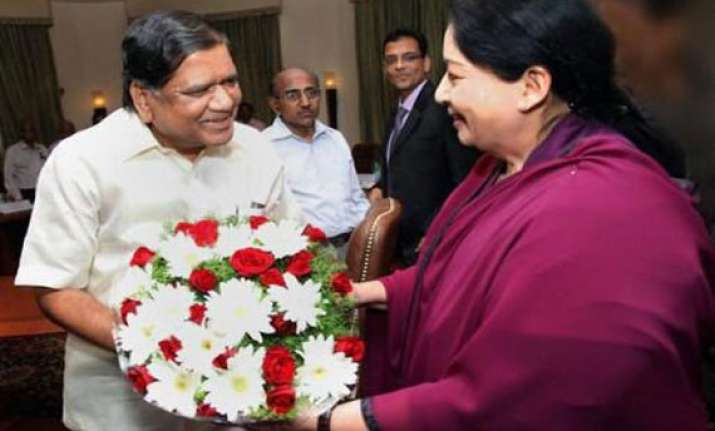 Bangalore, Nov 29 : Karnataka Chief Minister Jagadish Shettar and his Tamil Nadu counterpart Jayalalithaa today fought bitterly on the Cauvery water-sharing row as the much-hyped talks held following Supreme Court suggestion failed to break the ice.
The less-than-an-hour meeting appeared to widen the wedge between the two States, with both sides sticking to their known hard stands, taking the case back to the apex court.
Jayalalithaa pushed for release of a "bare minimum" of 30 TMC ft of water in the next 15 days to "save the standing samba (long term) crops" but Karnataka made it clear that it's not at all in a position to do so.
"...There is distress in Karnataka. We are not in a position to release water", Shettar told reporters after the meeting, which came at the suggestion of the Supreme Court.
Jayalalithaa argued that the effective storage at Mettur dam is 6.34 TMC ft after accounting for dead storage and drinking water requirements, and this would be sufficient for only another six days of irrigation.
If Karnataka did not release water, the standing samba crops will wither and die and "there will be a calamity for farmers of Tamil Nadu", she said.
"But despite all our discussions, despite all our pleadings, the Karnataka government was firm in saying that it could not release even a single drop of water. So this is the outcome of the meeting. Karnataka has flatly refused to release any water to Tamil Nadu", she said.
Shettar said reservoirs in Cauvery basin in Karnataka had a storage of only 37 TMC ft. Of this, 20 TMC ft is required for drinking water needs of Bangalore, other cities and rural areas and after letting out 10 TMC ft for "environmental purposes", it's left with only seven TMC ft for irrigation.
"If you release 30 TMC ft (out of 37 TMC ft we have), you can imagine the situation in future", he said.
This is the second time in 15 years that Chief Ministers of the two states had bilateral talks on the water row after 1997 when M Karunanidhi and J H Patel met in Chennai.
"....So, we will go back to Supreme Court tomorrow and inform it about the outcome of today's meeting....", Jayalalithaa said.
On her arrival at Chennai airport, she said Shettar simply stated Karnataka could not release any water at all when asked about the quantum of water it could spare to Tamil Nadu.
"...I asked Karnataka Chief Minister, you cannot say you cannot release any water at all. We have asked for 30 tmcft, please tell us, what you can release, name a figure", she said, adding Shettar and Karnataka Irrigation Minister kept repeating that they could not release any water at all.
Jayalalithaa said in Bangalore though water storage at Mettur dam was 16.34 tmc ft, after deducting five tmc ft each for dead storage and drinking water requirements, the effective storage for irrigation is only 6.34 tmc ft.
But Karnataka Water Resources Minister Basavaraja Bommai argued that the dead storage can, in fact, be used for irrigation and drinking water requirments can be augmented in the coming north-east monsoon in Tamil Nadu. In a distress year, Tamil Nadu can tap ground water reserves.
He also said Jayalalithaa's contention that Tamil Nadu had lost the kuruvai (short-term) crop is "unfounded" and "without basis" as 14.3 TMC ft had been released during that period, which was recorded by the Central Water Commission.
Shettar said the Karnataka government has to examine and assess the future implications, especially the drinking water requirement during the summer and farmers' needs.
Shettar also favoured an out-of-court settlement for a long-lasting solution to the Cauvery dispute and suggested a three-point approach to achieve this objective.
"...We may have to consider a way to find an amicable and long-lasting solution outside the purview of the Court and the Tribunal, if possible. The Cauvery has remained a complicated problem, especially during the distress years".
Shettar suggested building reservoirs in the reach below Shivasaumdram and Mettur to increase storage in the reach to overcome difficulties in distress year, formation of a mediation committee of experts with representatives from both states to evolve distress formula, and an experts committee with farmers representatives on both sides.