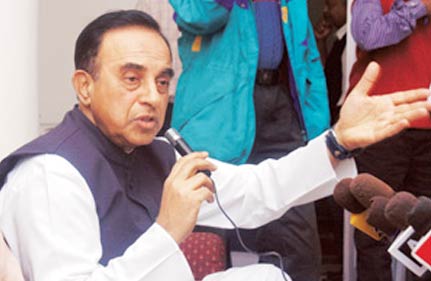 Coimbatore, Nov 26: Janata Party president Subramanian Swamy today said that he would file a criminal case against former Telecom minister A Raja in a special court in the first week of next month in connection with the alleged irregularities in allocation of 2G spectrum.
He was collecting documents to move the court and once an arrest warrant was issued against Raja, he would name the "other beneficiaries" of the scam under the relevant section of CrPc, Swamy told reporters here.
The Supreme Court had reserved orders on Swamy's petition seeking the court's direction to Prime Minister Manmohan Singh to grant sanction to prosecute Raja, who has resigned as Telecom minister following the 2G scam.
Swamy claimed though the CAG report had put the "presumptive loss" in the spectrum allocation at Rs 1.76 lakh crore, the "money that changed hands" could be about Rs 60,000 crore.
When asked whether Raja was targeted because of his caste, Swamy said the "Dalit cover" should not be brought in the scam.
The Janata Party president said he had maintained from day one that the Prime Minister had no role or even a share of one rupee in the irregularities in the spectrum scam.
However, Singh's silence was due to "ignorance and compulsion", Swamy, who had petitioned the prime minister in 2008 seeking sanction to prosecute Raja, said. PTI