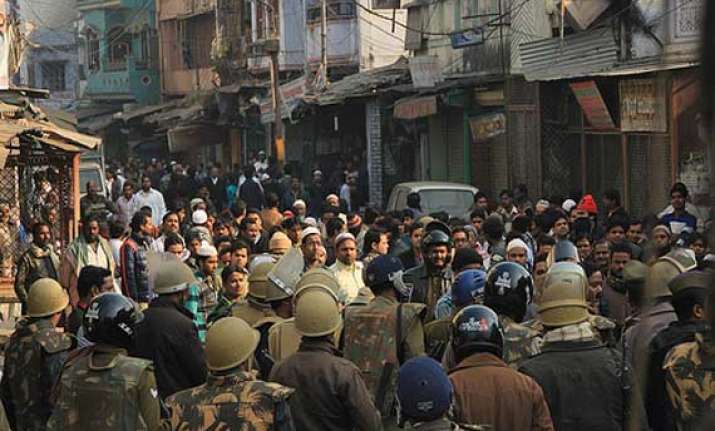 Lucknow, July 31: Violence broke out here Wednesday as two communities of Muslims fought in the Bazarkhala area after stones were pelted near Bhadenva telephone exchange on the "taboot" procession of the 21st Ramzaan, police said.
Following the incident, groups took to the streets and torched over a dozen shops in the area. Police resorted to a cane charge to disperse the clashing groups and restore normalcy.
Senior police officials told IANS that while the situation was under control, a heavy police posse has been deployed in the area to avoid further escalation of violence. Stray incidents of stone pelting, however, continue to be reported in some parts.
All India Shia Personal Law Board spokesperson Maulana Yasoob Abbas, condemning the violence, alleged that it was all part of a pre-meditated plan to disrupt the holy month of Ramzaan.
He also alleged that many women and children were injured in the incident and demanded enhanced security in the days before the Eid.
"Many processions will be taken out in the coming days, and the state government should ensure that no further incidents like this one take place," Maulana Abbas told IANS.
Inspector General of Police (Law and Order) R.K. Vishwakarma, however, said that for now, the 21st day procession has passed off. Police denied that people were injured in Wednesday's violence.
Additional Director General of Police (Law and Order) Arun Kumar told IANS that the people who tried to disrupt the procession have been identified.
"Strict action in accordance with law will be taken against them," he said, adding that 17 companies of Provincial Armed Constabulary (PAC) and two companies of Rapid Action Force (RAF) have been rushed to the troubled spot.