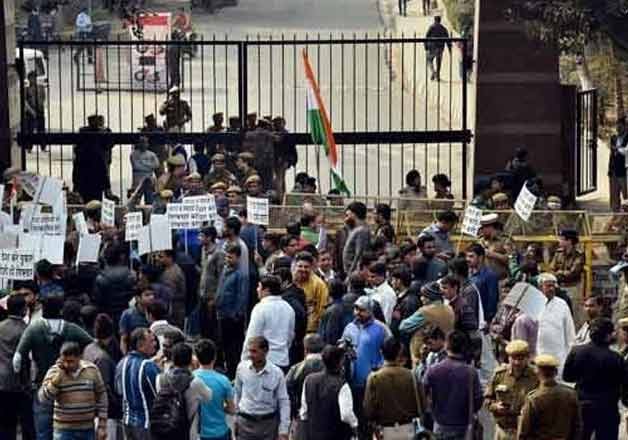 New Delhi: JNU Students Union has written to Vice Chancellor M Jagadesh Kumar demanding that the panel probing the Afzal Guru row at varsity starts its enquiry afresh and 8 students who have been academically debarred in connection with the incident be reinstated.
The university Registrar Bhupinder Zutshi, however maintained that it is for the panel members to decide if they want to start afresh and varsity will not "dictate" terms to the committee.
"Any fair enquiry can take place only when actions taken by the ongoing process where 8 students suspended, are summarily revoked and the probe process starts afresh to ensure the enquiry is unbiased and representative," JNUSU said in a letter to the VC.
"Mere inductions of new members in the middle of an enquiry fails to render any additional credibility to the enquiry. If some depositions had already happened, how will the new members get a chance to question them," it added.
The union has also questioned "credibility" of probe panel chief Rakesh Bhatnagar saying he was associated with the now defunct "Youth for Enquiry forum", which they alleged had right-wing leanings.
While Bhatnagar refused to comment on the issue, the Registrar said, "he is a professor and scientist of repute. He has been appointed to the committee on the basis of his credentials and not any other reason".
The JNU administration had instituted the "disciplinary" committee to inquire as to how the event on February 9 against the hanging of Parliament attack convict Afzal Guru took place despite the withdrawal of permission for the same.
On the basis of a preliminary report by the panel, the varsity had debarred eight students from academic activity while allowing them to stay as guests in hostels till the inquiry proceedings were over.
JNU students and teachers had repeatedly appealed to the Vice Chancellor for expansion of the three-member committee to have an unbiased and broad-based enquiry.
While the varsity had earlier ruled out changing the composition of the high-level committee saying it had full-faith in it, the Vice Chancellor on Tuesday decided to add two more members to the probe panel.