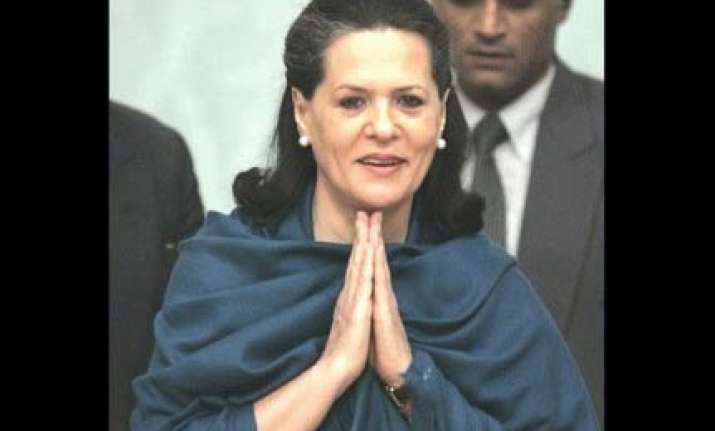 New Delhi: Sonia Gandhi is all set to be re-elected as Congress President for a record fourth term this week with the polls for the top party post likely to be an uncontested affair.  
The last date for filing nominations for the election is September 2, a day on which several sets of nomination papers are expected to be filed on behalf of 63-year-old Gandhi.
The filing can either take place on that day, on which Janmashtami falls, or a day earlier with top party leaders including Prime Minister Manmohan Singh, Leader of the Lok Sabha Pranab Mukherjee and Gandhi's son Rahul Gandhi among those submitting the proposals. The process for the election was set into motion two days back with the issue of notification.
Though the last day of the withdrawal of nominations is September 10, it will be clear whether Gandhi is going to be elected unopposed or not on September 2 itself.  
Gandhi, who is also the UPA Chairperson, has ensured power for the Congress via the coalition route. She led a Congress-led alliance to victory in 2004 after eight long years of political wilderness for the party. This was the first experiment of Congress sharing power at the Centre and it has also entered into a second term in power in coalition after the 2009 Lok Sabha elections.
Gandhi has created a record of having the longest tenure as Congress chief by steering the party since April 1998 when she replaced the late Sitaram Kesri. Only once she had to face a contest with senior leader Jitendra Prasada throwing his hat in the ring a decade back but she had defeated him in the election.  
As per the schedule for the election finalised recently at a meeting of the Congress Working Committee (CWC), scrutiny of nominations will be held on September 3, last date of withdrawal is September 10, and date of polls, if necessary, is September 17.  
Counting of votes will be held on September 21. This is also the schedule for the election of the PCC presidents in various states. PCC delegates, who constitute a total of 7946, are the electoral collage for the Congress President's election, which is held in Delhi as also in party headquarters in states. PTI