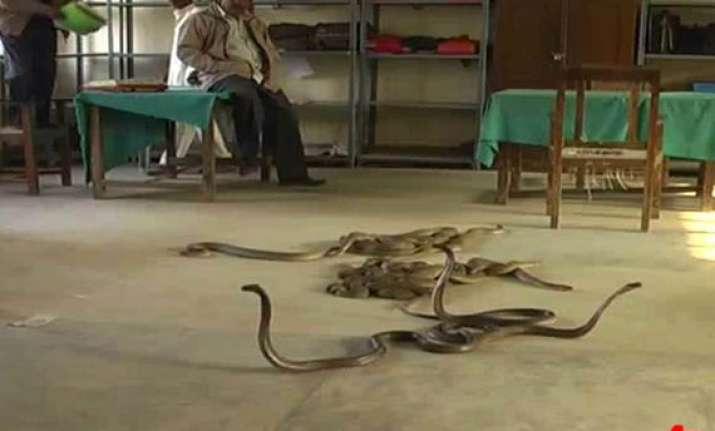 Basti, Uttar Pradesh, Dec 1: In a unique protest, a snake charmer on Wednesday came to the Haraiya tehsil headquarters, opened his basket and released nearly 100 poisonous snakes, causing a virtual stampede among the staff.

The snake charmer alleged that the tehsil staff were asking bribes for him to  transfer a plot of land in his name, but the poor man was not in a position to give bribe.

He decided to teach the corrupt staff a lesson.

He collected nearly 100 poisonous snakes including a python in his basket, went to the tehsil headquarters and after opening the basket, went away.
 
As snakes in scores  slithered through the rooms and corridors of the tehsil office, the frightened staff began to run towards the exit.

Several employees were seen standing on chairs, while some tried to shoo away the snakes with clothes.
 
After an hour long operation, police tried to retrieve nearly 40 snakes, but, by that time, the rest  had slithered away to freedom, giving the corrupt staff a lesson to remember.