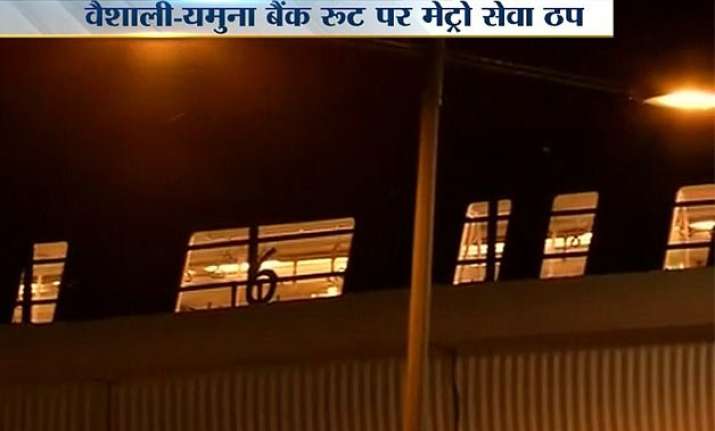 New Delhi: Delhi Metro commuters faced a harrowing time for the second consecutive day on Wednesday, when a technical snag affected services for almost two hours on one of its lines, causing trains to run slow and halt for inordinately long periods at stations resulting in overcrowding.
Operations on the Blue Line from Dwarka Sector 21 to Noida City Centre/Vaishali were affected from 6.15 p.m. to 8.06 p.m., after a strand of the over head electrification (OHE) wire "snapped" at a station.
"A strand of OHE wire snapped at Yamuna Bank station at 6.15 p.m. which led to delay of services on the Vaishali - Yamuna Bank section," a Delhi Metro official told IANS.
A crow was found dead on the spot, and an official said that might have caused the snag.
The official said that during the OHE repair, one train approaching the Yamuna Bank station from Laxmi Nagar got "held up mid-section and passengers opened the emergency doors".
"As a result, there was further delay in carrying out repair work," he said.
Services on the section from Noida City Centre to Dwarka Sector 21 were, however, running normally.
"Normal train services were restored on the Yamuna Bank to Vaishali section at 8.06 p.m.," the official said.
Disha Bose, who travels from Ghitorni in south Delhi to Preet Vihar in east Delhi, told IANS that she had to get down from the train and take an auto-rickshaw to her home.
"There is always a problem on this line. Since the train simply refused to move, I decided to take an auto-rickshaw. There was too much crowd anyways," she told IANS.
Some commuters took to social networking sites to warn others.
"Avoid Delhi Metro towards Vaishali/Noida. Huge rush due to some technical snag," Ankur Dhaka tweeted.
This was the second consecutive day when passengers faced problems on the line as services were affected on Tuesday too, when the trains were "unable to attain their average speed".
Delhi Metro carries approximately 25 lakh people every day on its network with the Blue Line being one of the busiest.