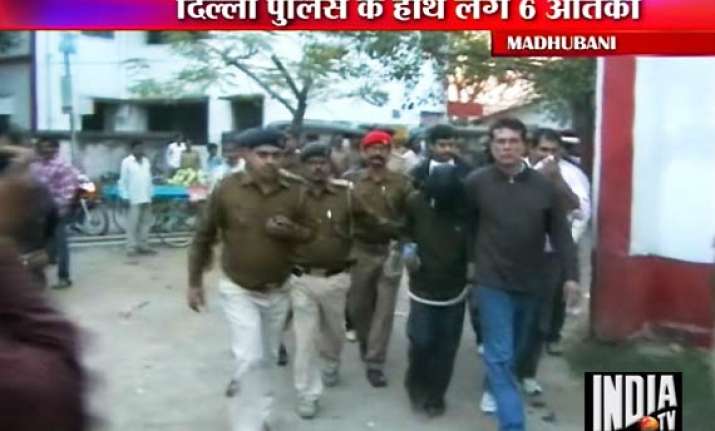 New Delhi, Nov 30: Six suspected Indian Mujahideen operatives, including two Pakistani nationals, were arrested from across the country with Delhi Police today claiming they were involved in terror strikes in Delhi, Bangalore and Pune. 

Police sources said the "main man" Imran, who was allegedly providing finance and other logistics besides coordinating various modules, is on the run. 

Imran had allegedly planted the bomb in a car outside Delhi's Jama Masjid on September 19, 2010, the sources said.  Sources said they also looking for one Tauqeer, a top IM leader who is wanted in 2008 Delhi serial blasts and is suspected to be involved in the September 7 High Court blast. 

Investigators claimed the arrested persons were allegedly involved in the Pune German Bakery blast in February 13, 2010, blast in Bangalore's Chinnaswamy Stadium during an IPL match in April 17, 2010 and firing and a blast in car outside Jama Masjid in September 19, 2010 ahead of Commonwealth Games here. 

Two Pakistani nationals—Mohd Afzal and Mohd Ajmal— were arrested along with Mohd Siddique, Zafar, Abdul Rehman and Irshad Khan, a senior police official said. 

Afzal and Ajmal were arrested from Madhubani in a fake passport case while Rehman and an engineering student Irshad Khan were apprehended from Chennai. Siddique and Zafar were arrested from Delhi, the official said.

"All the arrests were made in the past few days. We have also seized some arms and ammunition from Delhi and nearby areas," the official said, adding all these were two-member modules.

Seventeen people were killed in the German Bakery blast and over 40 people have been arrested in this case.

However, this is the first arrest in the Jama Masjid terror strike case.