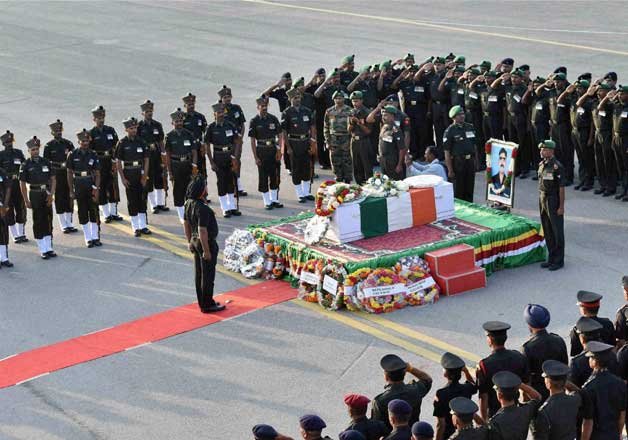 New Delhi: The bodies of nine Indian soldiers buried alive in an avalanche on the Siachen glacier on February 3 were today flown to Delhi from the frontier Ladakh region.
The bodies were later flown in IAF planes to Pune, Bengaluru, Hyderabad, Madurai, Chennai and Thiruvananthapuram, for sending them to the native villages of the deceased soldiers. 
After a C130J Indian Air Force aircraft carrying the bodies of the soldiers touched down at Palam airport here, Minister of State for Defence Rao Inderjit Singh and Army chief General Dalbir Singh were among those who laid wreaths on the coffins to pay their last respects.
Ten soldiers were buried under nearly 30 feet of ice and snow when the avalanche hit the Sonam Post on the Siachen glacier at an altitude of around 20,000 feet.
Lance Naik Hanumanthappa Koppad was the only one found alive even though he was trapped under the snow for about six days. He succumbed to multi-organ failure at the Army Hospital Research and Referral in New Delhi on Thursday. Koppad was cremated in his home town in Karnataka on Friday.
The bodies of the remaining nine soldiers were retrieved a week after the tragedy. 
However, bad weather in the region hindered the process of flying the bodies out of Ladakh. The coffins were finally flown out of Siachen to the base camp on Saturday, but could be flown to Leh only on Sunday.
The nine soldiers who died in the avalanche are Subedar Nagesha TT of village Tejur, Hassan district, Karnataka; Havaldar Elum Alai M. of village Dukkam Parai, Vellore district, Tamil Nadu; Lance Havildar S. Kumar of village Kumanan Thozhu, Teni district, Tamil Nadu; Lance Naik Sudheesh B. of village Monroethuruth, Kollam district, Kerala; Sepoy Mahesha P.N. of village HD Kote, Mysore district, Karnataka; Sepoy Ganesan G. of village Chokkathevan Patti, Madurai district, Tamil Nadu; Sepoy Rama Moorthy N. of village Gudisa tana Palli, Krishna Giri district, Tamil Nadu; Sepoy Mustaq Ahmed S. of village Parnapalle, Kurnool district, Andhra Pradesh; and Sepoy (Nursing Assistant) Suryawanshi S.V. of village Maskarwadi, Satara district, Maharashtra.