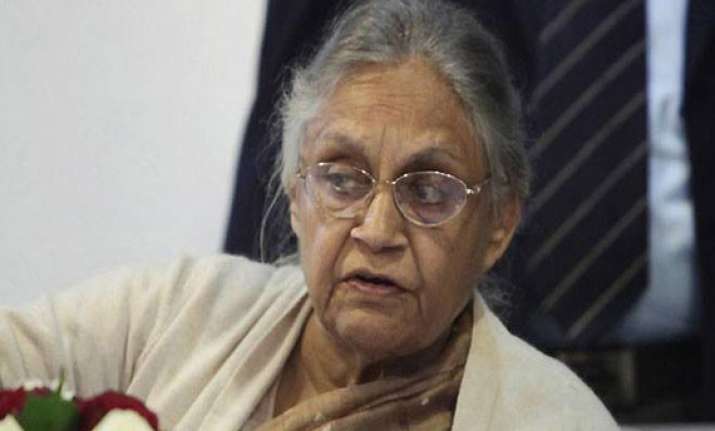 New Delhi, May 26: With areas across the city reeling under severe power cuts in sweltering heat, Chief Minister Sheila Dikshit today warned two private power distribution companies of punitive action if they fail to improve supply immediately despite adequate availability of electricity.
Dikshit summoned Chief Executive Officers of BSES Rajdhani Power Ltd and BSES Yamuna Power Ltd to her residence and strictly told them to rectify problems in their supply network urgently as long power cuts have been reported in areas where these two companies supply power, officials said. 
The Chief Minister also warned Delhi Transco Ltd (DTL), the Delhi Government entity that maintains all major transmission network in the city, to improve maintenance of its network as a number of major transmission lines, maintained by it had tripped in the last four days causing long power cuts in various areas. 
Residents in West Delhi had to face outages for upto 10 hours on Friday due to tripping of a major line in Pappankala. 
Power Secretary Shakti Sinha, who was also present in the meeting, said the city has more power than the current demand and blamed the long outages on local faults and other technical problems in the distribution network. 
Areas across the city have been facing power cuts for upto six hours in the last few days when maximum temperature has been hovering around 45 degree Celsius, despite government's claim of ensuring round-the-clock power supply. 
The BSES discoms supply power in 70 per cent areas of the city while Tata Power Delhi Distribution Ltd (TPDDL) distributes power in around 25 per cent areas while New Delhi Municipal Corporation supplies power in Lutyens Bungalow Zone. 
Officials said government has not received any complaint of power cuts in areas served by TPDDL and NDMC. 
"The city has surplus power in the range of 500 to 800 MW. So, henceforth, we will not tolerate any power cuts.  The discoms and DTL have to improve their coordination to avoid power cuts," Dikshit told the meeting while slamming both the BSES discoms and DTL for not showing "sensitivity" towards the problems being faced by people. 
The Chief Minister directed Chief Secretary D M Spolia and the Power Secretary to review the situation on every Tuesday and Friday. 
The discoms and DTL have been asked to submit a daily comprehensive report to the government. 
"The Chief Minister told the BSES discoms that government was facing flak due to their laxity and it will not be tolerated. 
"She warned them of action if they fail to improve the situation," said an official who attended the meeting. 
He said Dikshit also asked discoms and DTL to stop shifting the blame on each other and work unitedly to improve supply of power. 
Both BSES discoms and DTL have been told to carry out joint inspection of the distribution network. 
Expressing unhappiness over the complaint redressal system of the BSES discoms, Dikshit asked them to put in place a quick response mechanism. 
The discoms have been asked to give wide publicity to their complaint redressal mechanism and customer care numbers. Meanwhile, areas across the city continued to face long power cuts in the sweltering heat. 
"There was no power in our locality for four hours," said a resident of Janakpuri area. 
Officials said DTL representatives informed Dikshit that a major transformer will be set up at Hastsal by June 7 and another at Matiala by June 30 to improve power supply in various areas of West Delhi. 
The searing heat today pushed the power demand in the city to over 4,955 MW, the highest of the year. 
Officials said the discoms were told that the city has sufficient power to meet the demand and hence government would not tolerate any load shedding 
Last year, the peak demand had gone beyond 5,600 MW. 
Power department officials said the maximum demand is likely to go beyond 6,000 MW this summer.