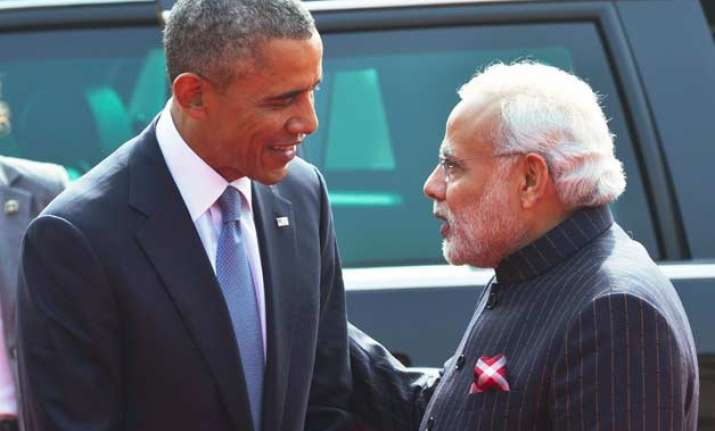 New Delhi: American President Barack Obama today morning arrived here on a three-day state visit on the invitation of Prime Minister Narendra Modi.
Modi broke all protocols and personally received the President and his wife Michelle at the Palam airport.
Obama is the first US President to be the chief guest at the Republic Day celebrations. He is also the first American President to visit India twice.
Here are some key areas likely to be discussed during his visit:
Strategic importance: India wants greater cooperation with US on terrorism and access to high-technology goods for civilian and military. India's size, location, fast-growing economy and potential as a democratic nation is makes it an increasingly key element of US military and commercial strategy.
Defence: India is the world's biggest importer of weapons and the United States is the biggest arms supplier. Government of India had in August said that the US overtook Russia as the biggest weapons supplier to India. An announcement is likely on the joint manufacturing of the Raven unmanned aerial vehicle UAV in Bengaluru from later this year.
Civil nuclear: US and Indian officials will also discuss ways to unblock billions of dollars of potential trade in nuclear energy. India and the United States signed a landmark civilian nuclear deal in 2008.
Renewable energy: India wants companies from the United States to help lead investments of USD 100 billion in renewable energy. Modi promised to help renewable energy companies overcome entry to the Indian market during his trip to Washington last year. Modi and Obama will together address the American and Indian business communities on January 26.
Climate change: India is world's third largest carbon emitter. The United States and India are expected to announce efforts to work together to combat climate change ahead of key global talks in Paris later this year. India is likely to trumpet its plans for a rapid expansion of renewable energy. India needs US investment and technology for improving energy efficiency.
Sharing intelligence inputs: The US is today the most important supplier of intelligence and information to India.
Economic ties: Modi and Obama last year targeted a five-fold increase in annual trade to USD 500 billion. US business leaders have been frustrated by limits on their access to the Indian market. The two nations have also filed several cases against each other at the World Trade Organisation (WHO) over protection of their domestic steel, poultry and solar industries.