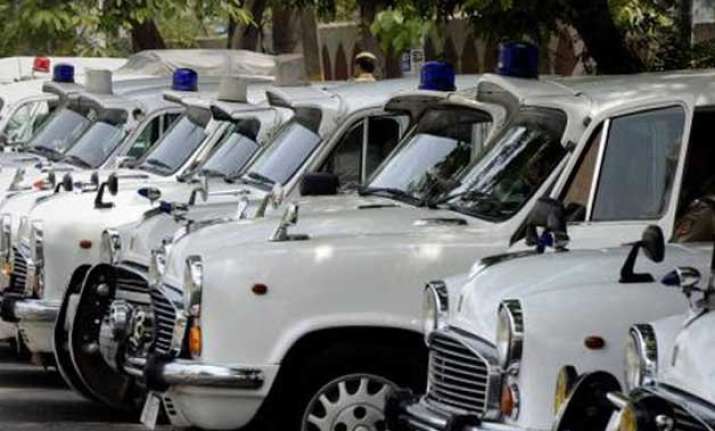 Noida: In a major security lapse on the outskirts of the national capital just days ahead of the Republic Day, a blue-beacon installed Tata Safari of a senior IPS officer was today stolen in the wee hours from Noida, police said.
The development has prompted police to launch a massive manhunt in the wake of the security alert for Republic Day. Moreover, recent instances of terrorists in the Pathankot attack using a beaconed car belonging to a senior police official to negotiate police check points on the way has made the threat more imminent.  
According to officials, the white Tata Safari bearing registration number CH-01 GA 2915 of ITBP Inspector General (IG) Anand Swarup was stolen from his Sector-23 residence at around 3:30 AM.
The move has triggered concerns in the national capital as well with the Delhi Police sounding an alert on the missing vehicle and also seeking information from the public on the stolen vehicle. Information, if any, can be shared at 100 or with the Noida Police Control Room at 0120-2479001.
According to Noida police officials, the guard on duty in the complex alerted about the missing vehicle after which an FIR was lodged by the officer in Sector 24 police station in Noida.
The vehicle was parked late last night after it came back from Delhi, they said.
Swarup, a 1992-batch Indian Police Service officer of Uttar Pradesh cadre, is posted as IG (Provisioning) at the headquarters of the border guarding force in Delhi.
ITBP has instituted a court of inquiry into the incident, they said, adding the IG was posted in Delhi few months back on transfer from Mussoorie.
Officials said the SUV was purchased few months back and has a blue beacon, a two-star police IG plate and an ITBP flag in the front.
The police are making all efforts to trace the vehicle in the wake of the recent Pathankot attack where terrorists had overpowered an Punjab police SP riding a similar vehicle to reach the IAF base before launching the deadly strike.
There have been instances in the past when vehicles with beacon, including during the Parliament attack, were used to launch terror attacks by hoodwinking security officials.
The National Capital Region is already on high alert in view of the Republic Day celebrations.