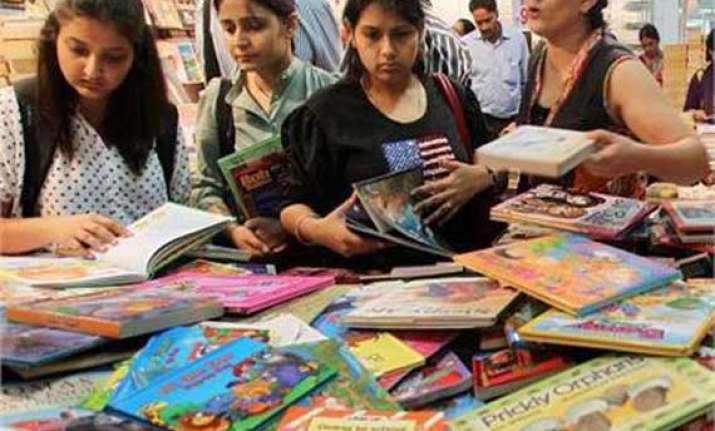 New Delhi: Schoolchildren of the city were seen making a beeline to the 19th Delhi Book Fair as soon as it opened this morning.
With a focus on libraries and reading, the nine-day fair, fair, features 250 exhibitors and 59 from abroad including the US and China.
"The main feature of the fair that we are bringing the students to the main stalls. Earlier the bus services used to ply only up till the main roads near the gates. So this is one major effort which we have made this year for helping the book reading public," CMD, India Trade Promotion Organisation (ITPO) Rita Menon told PTI.
As a special gesture to students, 50 per cent concession has been granted on entry fee to the exhibition on production of student Identity cards.
"The normal tickets will cost Rs 20 but for students it is discounted will cost Rs 10 per student. The fair timing is more than the normal hours it's from 10 am to 8 pm," said Menon who said the area of the fair had been increased from the previous year.
"This year since the participation was so much we had to move the stationary fair to Hall no 15 because of our prior commitments for space," said Menon.  
While the crowds were thin during the morning time school children could be seen visiting stalls and also making a bee line to the stationary fair, also being held simultaneously.  
However, visitors had to negotiate the way in the Fair without the help of proper directions within the venue.  
The Book Fair also sports a special children's corner with displays from children's' book stalls where kids can even sit down and read.
"People are enthusiastic to interact with authors and publishers. All of them want launches and seminars for interaction with each other," Menon said.  "We have the British Council who is participating for the first time," she said.
Sticking to this year's theme of the Book Fair  "Libraries and Leadership" a series of events including discussion on library and the reader, Kavi Sammelan, interactive programme for children and book releases are scheduled.  
"With this year's theme being libraries we have taken inputs from Raja Ramohan Library, the National Library as well as the Ansari Road and Daryaganj Book Shops to make a point that libraries need to be strengthened because not everybody can afford to buy books," said Menon.  
Book lovers can also enjoy a good cuppa in the halls while browse through their favourite books  as the authorities have allowed food and beverages inside the halls.
"I think citizens of Delhi will love to come to this book fair. It is a wonderful fair," Central Vigilance Commissioner Pradeep Kumar said while inaugurating the fair today.