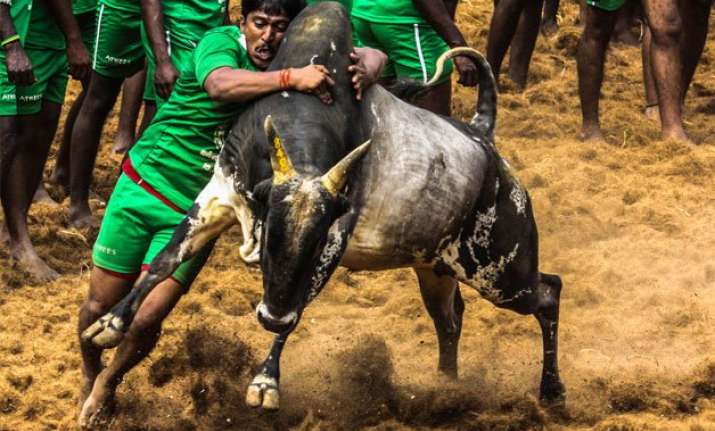 New Delhi: The Supreme Court today stayed the Centre's notification allowing Jallikattu, the controversial bull-taming sport celebrated around the festival of Pongal every year in Tamil Nadu.
The top court's order came while hearing a bunch of petitions challenging the Ministry of Environment and Forests' notification in this regard last week.
The Animal Welfare Board and various bodies had moved the apex court against the Centre's move to lift the ban on the controversial bull-taming sport in Tamil Nadu. PETA had also criticised the Centre's decision to permit events like Jallikattu.
In 2014, the SC had banned the exhibition of bulls in the popular festival. The apex court's decision came following demands from rights groups who pointed to animal cruelty and human deaths during the event.
The SC had then upheld a notification by the Ministry of Environment Forest and Climate Change categorising bulls in the list of animals which shall not be exhibited or trained as performing animals.
Last week, the Central government had stipulated several conditions for allowing the conduct of Jallikattu. The notification stated that such races will organised on a 'proper track' and bulls are put to proper testing by the authorities of the Animal Husbandry.
"Bulls may continue to be exhibited or trained as a performing animal, at events such as Jallikattu in Tamil Nadu and bullock cart races in Maharashtra, Karnataka, Punjab, Haryana, Kerala and Gujarat in the manner by the customs of any community or practiced traditionally under the customs or as part of culture," it reads.