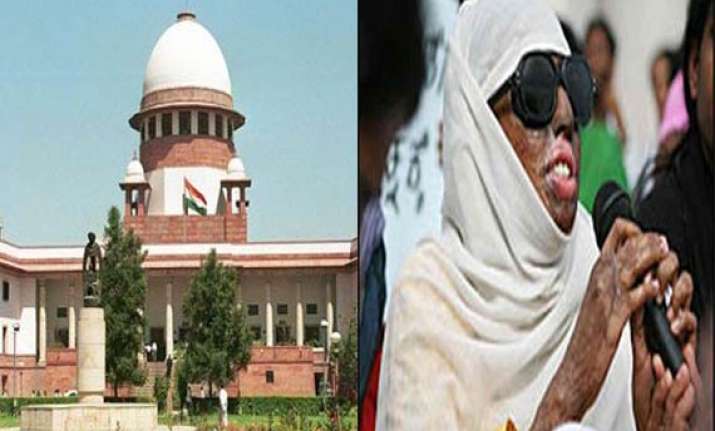 New Delhi: Taking a firm stand for the plight of acid attack victims, the Supreme Court on Friday issued notices to the Centre and state governments asking reason for the pathetic condition of such victims in the country.
The notice has questioned the laxity on the part of the government regarding this serious crime which has escalated sky high in past few years.
The court has intervened after Laxmi saa, one of the survivors of acid attacks and the winner of the international women's courage award, filed a PIL in the Supreme Court seeking regulation of open sale of acids.
Noticeably, the court had passed an order earlier this month prohibiting sale of acid without license and also making it compulsory for the sellers to maintain a record of buyers.
But unfortunately, the situation after the order has not got any better as women are continuously being targeted by the notorious section of society.
There have been some cases in which the victims fought all odds and rekindled their lives.
But sadly, there are also few of them who could not fight the brutality and succumbed to the injuries.
Here we give you few such cases.

1) Laxmi Saa
Almost nine years ago when Laxmi was only a teenaged girl, she had acid thrown at her by a man who she had refused to marry. But unlike other acid attack victims, Laxmi put up a brave fight and rekindled her life.
She did not give up her zeal to live and she finally succeeded in giving her life a new shape.
A 25-year old social activist Alok Dixit was so much influenced by Laxmi's courage and spirit that he decided to spend his entire life with the brave girl.
Alok actively runs a social media campaign against growing cases of acid attacks.
The attacker who poured acid on Laxmi has been sentenced to 10 years in jail. However, the couple has decided to continue with their campaign against acid attacks.