Follow us on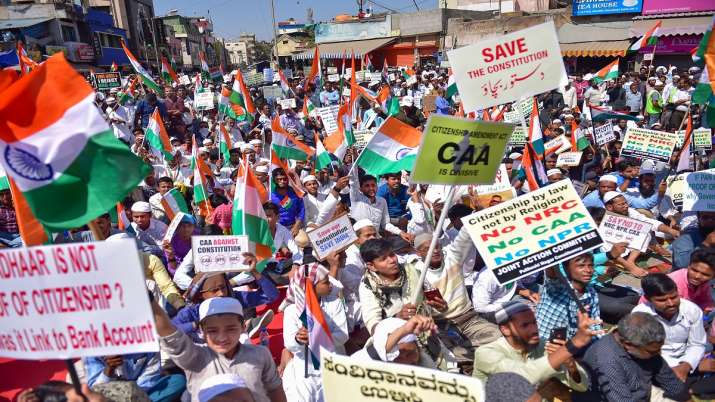 The Supreme Court on Wednesday made it clear that it will not grant any stay on the Citizenship Amendment Act (CAA) without hearing the Centre and said it may refer pleas challenging the validity of the Act to a larger Constitution bench. A bench headed by Chief Justice SA Bobde heard a batch of 143 pleas challenging the validity of CAA, including those filed by the Indian Union Muslim League (IUML) and Congress leader Jairam Ramesh.
Attorney General KK Venugopal, appearing for the Centre, told the bench that the government has been given copies of around 60 pleas out of the 143 petitions. He said it wanted time to respond to pleas which have not been served on it.
Senior advocate Kapil Sibal urged the bench to put on hold operation of CAA and postpone exercise of the National Population Register (NPR) for the time being. The court said it will not grant any stay on CAA without hearing the Centre on the matter.
SC hearing on petitions challenging CAA | highlights
11:22 am
Centre tells the Supreme Court that it needs four weeks' time to file a response on petitions challenging CAA. 
11:18 am
CJI to Centre: When will you file a petition pertaining to Assam? Attorney General KK Venugopal tells the court: We will file the petition in two weeks. The court responded saying, "Alirght. We can hear it after two weeks."
11:15 am
Senior advocate Vikas Singh seeks an ex-parte order with respect to the implementation of the Act in Assam. He tells the court - The situation in Assam is different, 40000 people have already entered Assam since the last hearing.
CJI says "we may ask the government to issue some temporary permits for the time being."
However, the Attorney General asked the court to freeze filing further petitions, as over 140 petitions have been filed & others who wish to be heard, may file intervention application.
11:14 am
Senior lawyer Kabil Sibal demanded that the court should put a stay for at least two months on CAA process, however, the court said that until it hears the Centre on the matter, it won't issue any stay on the process.
11:11 am 
"Centre has prepared a preliminary affidavit that will be filed today," Attorney General KK Venugopal informed the apex court. Meanwhile, Abhishek Manu Singhvi said, "UP has started the process, it is irrevocable as once citizenship is granted it can't be taken back."
During the hearing, Kapil Sibal said, "Court to decide whether this case should be referred to the Constitution Bench."
11:00 am
The Attorney General told CJI SA Bobde that this court has to issue some direction on who can come to court, some rules are to be framed. He also said that Supreme Court of the United States and Supreme Court of Pakistan have regulations for visitors inside courtroom.
The CAA grants Indian citizenship to non-Muslim minorities -- Hindu, Sikh, Buddhist, Jain, Parsi and Christian -- who migrated to India from Afghanistan, Pakistan and Bangladesh till December 31, 2014, following religious persecution.
The petitions filed later have also sought a stay on the operation of the legislation which came into force on January 10.
On January 9, the apex court had refused to conduct an urgent hearing on a plea seeking that CAA be declared constitutional. The apex court had observed that saying the country is going through difficult times against the backdrop of violence in many states, and therefore the endeavour should be for peace.
President Ram Nath Kovind gave assent to the Citizenship (Amendment) Bill, 2019 on December 12, turning it into an Act.
The IUML submitted in its plea that CAA violates the fundamental Right to Equality and intends to grant citizenship to a section of illegal immigrants by making an exclusion on the basis of religion.
The plea filed by Congress leader Ramesh, said the Act is a "brazen attack" on core fundamental rights envisaged under the Constitution and treats "equals as unequal".
No going back on CAA: Amit Shah
Earlier on Tuesday during a public address in Lucknow, Union Home Minister Amit Shah launched a blistering attack on the opposition and dared it to protest as much as they can for the Modi government will not take back the Citizenship Amendment Act (CAA).
Shah dared Rahul Gandhi, Mayawati, Mamata Banerjee, Akhilesh Yadav to a public debate on CAA and said that these leaders were driven only by vote-bank politics.
"We are not bothered about the opposition because we have been nurtured with opposition," he said.
Speaking at a pro-CAA rally in Lucknow, Shah said that there were 23 percent minorities, including Hindus, Buddhists, Sikhs and Christians in Pakistan at the time of Partition but the figure had come down to just three percent today.
"Where have they gone? They have either been killed or converted or have fled to India. Many of them have left their palatial houses in Pakistan and are living in huts now," Shah mentioned.
"Prime Minister Narendra Modi is not only giving them homes but also jobs and a better life. Is this wrong?" Shah asked.
(With inputs from PTI and IANS)
ALSO READ: Trump meets Imran Khan at Davos, says following situation in Kashmir closely
ALSO READ: Arvind Kejriwal Nomination: No deliberate delay in processing papers, says election officer