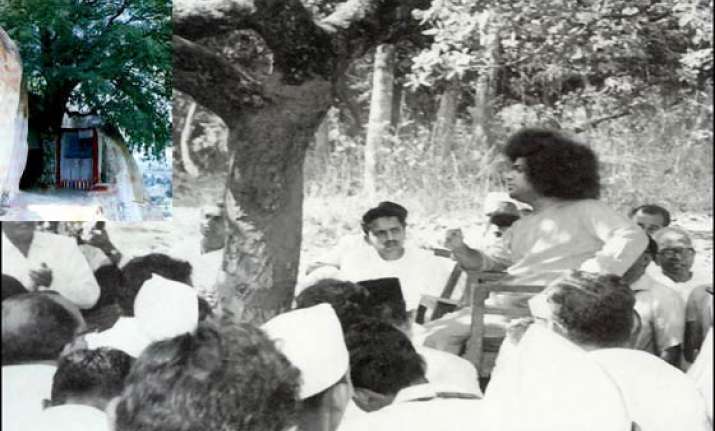 Puttaparthi, May 21: The famous Kalpavriksha tree here has collapsed, a month after Satha Sai Baba left the earthly abode, leaving  thousands of his devotees sad.
 
When alive, the spiritual leader loved his Kalpavriksha the most, and devotees used to perform prayers at the tree. Most of the devotees used the feel the presence of Sathya Sai Baba in the trunk, branches and leaves of Kalpavriksha, but the tree is no more there.
 
Says a devotee Ramakrishna Reddy: "I can't believe it. First Baba leaves us, now his Kalpavriksha has also left us."
 
The Kalpavriksha has a very old history. Young  Sathya Sai used to play around this tree. He used to sit on its branches for long, and discuss spiritual matters with people under the shade of this tree, say oldtimers.
 
Devotees say, Sathya Sai Baba acquired his "magical" powers from Kalpavriksha itself.
 
Residents are at a loss to understand how a tree with its greenery  got uprooted a few days back after strong winds blew through Puttaparthi.
 
Devotees say, Sathya Sai Baba at the age of 13 used to give mangoes, oranges and apples from Kalpavriksha, and people used to wonder at this "magic".  When Baba acquired the fame of  Bhagwan, this tree was named by residents as Kalpavriksha, old timers say.
 
They recollect when Baba used to perform sadhana under this tree located near Chitravati river.  Along with Baba's huge ashram, this treee became a must-see for thousands of devotees who throng Puttaparthi.
 
Several devotees say, the relationship between the Baba and his tree spanned more than 70 years, but the tree could not endure Baba's passing away even for 30 days. It's roots got so weak that it could not endure a strong gale.
 
Devotees recollect  Sai Geeta, Baba's female elephant which died on May 22, 2006. They say, Sathya Sai Baba was so much shocked over the death of the female elephant that he did not take his meals nor talked to any body for several days.
 
Baba had saved the elephant from hunters, and had given her honey to stop from crying.Sai Baba's Maha Samadhi is located a few metres away from the samadhi of his favourite elephant Sai Geeta.