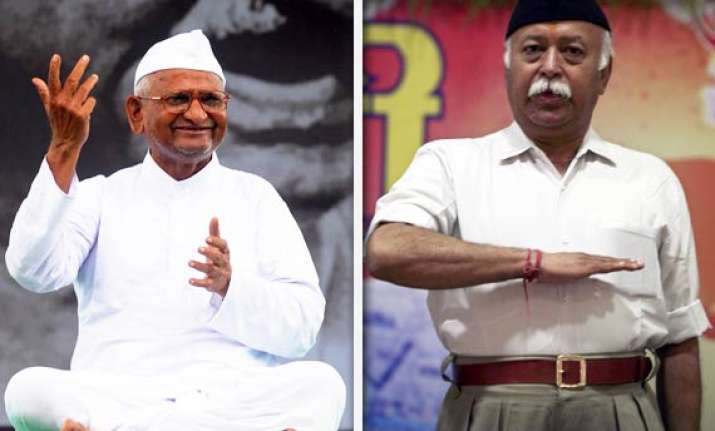 Gorakhpur, Oct 15: Insisting that it was very much part of his movement against corruption, RSS today said social activist Anna Hazare's comments that there was no support from the Sangh founthead to his Jan Lokpal campaign was beyond its comprehension.

"Anna had made some comments on the RSS Chief Mohan Bhagwat and also indicated that he viewed the letter written by me in support of his movement as a conspiracy. These views, which were published widely in the media, go beyond my comprehension and cause immense pain to me. 

"It is tragic that a person of Anna's stature too has got influenced by narrow political conspiracy," RSS General Secretary Suresh "Bhaiyyaji" Joshi said in a statement.  He was referring to a letter written by Hazare in reply to Congress general secretary Digvijay Singh.

"The views expressed in his letter would prove detrimental to the anti-corruption movement only. It will be most unfortunate," Joshi said.

Joshi's statement is all praise for Hazare, calling him a man committed to noble ideals and one who has been leading a massive popular movement against corruption in the country. 

"The entire credit for the success of this movement goes to him only. I and thousands of other activists of the country are familiar with and inspired by the ideas articulated by him on several occasions and the developmental activity undertaken by him," Joshi said.

RSS maintained that it was very much a part of Anna's movement against corruption both at the Ramlila grounds and across the country.

Belying Hazare's claims that RSS was not a part of the movement, RSS's head of propaganda (Prachar Pramukh) Manmohan Vaidya said, "Ordinary RSS workers were present in hundreds and thousands both at the Ramlila grounds and across the country during the anti-corruption movement.  Not all RSS workers went up on the stage to meet Hazare. 

"Asked why Hazare was distancing himself from the RSS now, Vaidya said, "Perhaps it is because there have been reports that it was RSS which was running the movement.  He said though a letter of support (from Suresh Joshi) had been sent to Hazare only on April 8, rumours had been spread from April 5, the day Hazare started his fast, that RSS was holding the campaign.

Vaidya maintained that RSS had never tried to take credit for the success of Anna's campaign.

"We do not know why he says RSS support has tainted his movement," he said in reply to a question.  RSS has termed the present public discourse on its involvement in the anti-corruption movement as "ill-intentioned" and a "conspiracy" to weaken the movement.  "It is a paramount responsibility of the leaders of anti-corruption movements to safeguard them from narrow and low-level conspiratorial politics," Joshi said.  He insisted that the general public gets disturbed by such controversies and hence the leadership of such campaigns should be vigilant.

Asked if RSS will work with Hazare in future, Vaidya said the Sangh will continue to support all movements against corruption.

RSS has, however, set aside its earlier restraint while talking about Team Anna and even suggested that there were differences within its ranks.

Asked about Prashant Bhushan's views on Kashmir and it differed from that of Hazare, Vaidya said, "One should not air personal views publicly on such issues.

"It is amply clear that there are differences between members of Team Anna. It is important to have some discipline," he said.