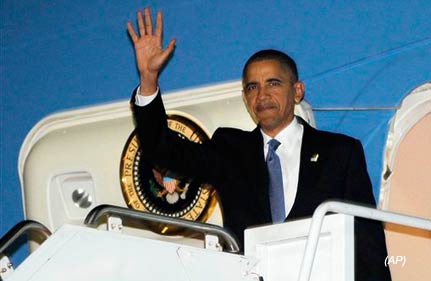 Mumbai: The US Consulate in Mumbai  today apologised for having asked invitees to President Barack Obama's functions to submit personal details like PAN numbers after it drew angry reaction from senior Maharashtra ministers and officials and blamed "clerical error" for the queries.
"I have visited chief minister Ashok Chavan and deputy chief minister Chhagan Bhujbal personally to apologise. It was a clerical error," US consul general Paul Folmsbee said.
An official in the Maharashtra Secretariat said a form attached to the invite sent to Chavan, other ministers and senior bureaucrats has "a huge list of questions, including on blood group, date of birth, official designation and this too for those holding constitutional posts."
Sources said some of the invitees were even planning to skip the event scheduled during Obama's visit to the city tomorrow, the first leg of his three-day stay in the country.
"In the invitation to me, to the chief minister, home secretary and others, a form is attached in which they have asked for the PAN number, photo, passport number and other details. The host is asking for details from a guest he is inviting. If he doesn't know who this guest is, then why is he inviting," a miffed deputy chief minister Chhagan Bhujbal said.
Bhujbal, however, said that that the consul general had called on him after he expressed his displeasure on the issue.
"He said he was sorry," the deputy chief minister said, adding he was yet to take a call on attending the programmes. "Now let's see how the chief minister and others are responding," he said.
The chief minister, Bhujbal, home minister R R Patil and some bureaucrats have received invitations to attend a function of the US President at the Taj hotel and a business meet at Trident in the evening tomorrow.
R R Patil, who is away in Sangli, may not attend the the functions, sources close to the state home minister said.
The official said the ministers are yet to give their confirmation on attending the events.
Chavan is also in his home town Nanded for Diwali celebrations and would be back tomorrow. PTI