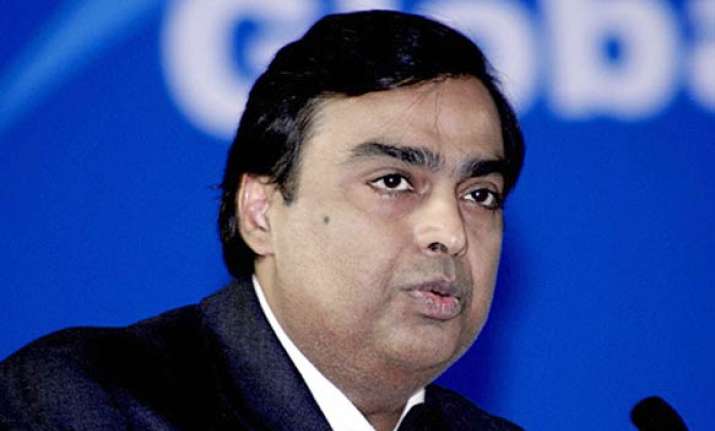 New Delhi, Feb 21: In one of the country's biggest energy deals, Reliance Industries today announced sale of 30 per cent stake in its 23 blocks including the giant KG-D6 gas fields to UK's BP Plc for USD 7.2 billion.
Besides the stake transfer, Reliance and BP will form a 50:50 joint venture for the sourcing and marketing of gas, the companies said in identical statements today.
Reliance has a portfolio of 29 exploration blocks besides the 30 per cent interest it holds in the Panna/Mukta and Tapti oil and gas fields off the west cost.
Of the 29 exploration blocks it has, Reliance is farming-out 30 per cent interest in 23 of them including the producing KG-D6 block which is estimated to hold an inplace reserve of 40 Trillion cubic feet (Tcf).
BP will pay Reliance an aggregate consideration of USD 7.2 billion and future performance payments of up to USD 1.8 billion.
The companies said these payments and the combined future investments in the 23 blocks could amount to USD 20 billion in total.
"The partnership will combine BP's world-class deepwater exploration and development capabilities with Reliance's project management and operations expertise," the statements said.
Oil Secretary S Sundareshan said the farm-out of stake in the blocks awarded under New Exploration Licensing Policy (NELP) transaction will need government approval.
However the nature of the approval will be different from Vedanta Resources' USD 9.6 billion acquisition of Cairn India as the Reliance-BP deal is a farm-out agreement and not a transfer of control.
In Cairn-Vedanta deal, Cairn Energy Plc of UK is transferring control of its Indian unit to the London-listed mining group, which has no prior experience in oil and gas.
Reliance will retain operatorship of all the 23 blocks.
It currently produces about 50-52 million standard cubic meters per day of natural gas from its mainstay KG-D6 fields off the Andhra coast.
Niko Resources of Canada has 10 per cent interest in the block and after the BP deal, Reliance's stake would fall to 60 per cent.
Besides KG-D6, Reliance's second biggest discovery block is NEC-25 in the Mahanadi basis off the Orissa coast. It has so far made 15 exploratory success in the block, where Niko holds 10 per cent stake. Post BP deal, Reliance stake in this block too will fall to 60 per cent.
Reliance has potential resource of 9.5 Tcf in KG-D3 block with Hardy Oil. Hardy has 10 per cent interest and Reliance 90 per cent. Besides, it has made oil discoveries in Cambay onland block.
"Completion of the transactions is subject to Indian regulatory approvals and other customary conditions," the statements said.
Reliance-BP joint venture will also endeavour to accelerate the creation of infrastructure for receiving, transporting and marketing of natural gas in India.
The 23 oil and gas blocks together cover approximately 2,70,000 square kilometres.
Reliance Chairman and Managing Director Mukesh Ambani said: "This partnership combines the skills of both companies and will be focused on finding more hydrocarbons in the deep water blocks of India and significantly contribute to India's energy security."
For BP, Reliance is a natural partner in India, given its strong position in the Indian market.
"This partnership meets BP's strategy of forming alliances with strong national partners, taking material positions in significant hydrocarbon basins and increasing our exposure to growing energy markets," said Carl-Henric Svanberg, Chairman of BP.
Reliance has more than 25 blocks in the East coast – in the Mahanadi basin, the Krishna-Godavari basin and the Cauvery-Palar basin.
In KG-D6 block, Reliance has so far made 27 oil and gas discoveries, of which it has put two gas discoveries - Dhirubhai-1 and 3, and one oil find - MA - into production.
It had in 2008 submitted development plan for nine satellite gas discoveries around Dhirubhai-1 and 3.
In 2009, it withdrew this and submitted an optimized development plan for prioritising four satellite gas discoveries to the Directorate General of Hydrocarbons (DGH).
An integrated development plan for all gas discoveries in the block KG-D6 is being conceptualised to maximize capital efficiency and accelerate monetisation.
"By allying ourselves with Reliance, we will access the most prolific gas basin in India and secure a place in the fast growing Indian gas markets, creating a genuinely distinctive BP position,," said BP CEO Dudley. "BP looks forward to a long and successful working partnership with Reliance." PTI