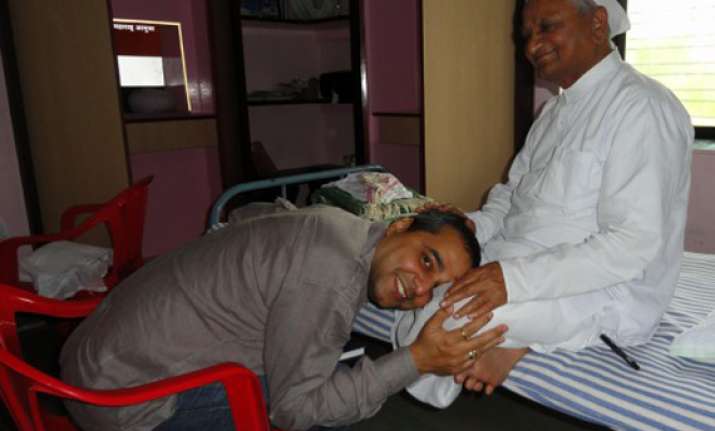 New Delhi, Nov 21: Claiming that Anna Hazare will be unable to run the anti-graft campaign on his own if resources are controlled by Arvind Kejriwal, Gandhian's ex-blogger Raju Parulekar today demanded the donations collected in the former's name should be returned to the trust in Ralegan Siddhi.

Parulekar, who fell out with Hazare after the Gandhian distanced himself from his claim on restructuring the Core Committee, also claimed that Hazare went on a vow of silence as he did not want to go to Hisar for campaigning. 

The money collected in the name of Hazare should be returned to the trust in Ralegan Siddhi. Presently this is lying with Kejriwal's trust. Many people donated because they knew Hazare's integrity and not because of the issue of Jan Lokpal Bill.

"With proper accounts, these money should be returned to the Trust run by Hazare. The money should be with Hazare. He wants to run the movement. But for running a movement you need public support and resources. The resources are not with Hazare now and it is with Arvind," he told reporters here. 

Earlier, Hazare had said it was decided that the money collected for his movement will be deposited in the accounts of Public Cause Research Foundation run by Kejriwal. 

Asked about Hisar campaign, Parulekar said Hazare did not want to go there but there was pressure on him to do so.  "So he (Anna) went to 'maun vrat'. So many people were pressurising him. To avoid pressure, he went on a vow of silence," he said.

"They used to make him do many things. They used to pressurise him saying if he did not do this, Jan Lokpal Bill will be in danger and all," Parulekar said, adding that there were differences in thinking of Hazare and his team members.

Asked whether he foresees a chance of Hazare avoiding Kejriwal, Kiran Bedi and Prashant Bhushan in running the movement if he had the money with him, Parulekar answered in the affirmative.

On whether Hazare changes his stand taken in Ralegan Siddhi once he is in Delhi, Parulekar said he cannot give evidences for everything but added, "we put in his blog (a letter to Prime Minister Manmohan Singh) in which he said he will not tour five poll-bound states. But then there was a change (after a meeting in Delhi)."

Parulekar also demanded that lawyer-activist Prashant Bhushan should withdraw his statement advocating plebiscite in Kashmir to retain his place in Team Anna.

He also demanded that Team Anna should come up with proper accounts of the proceedings of sale of Team Anna merchandise like T-shirts and caps.