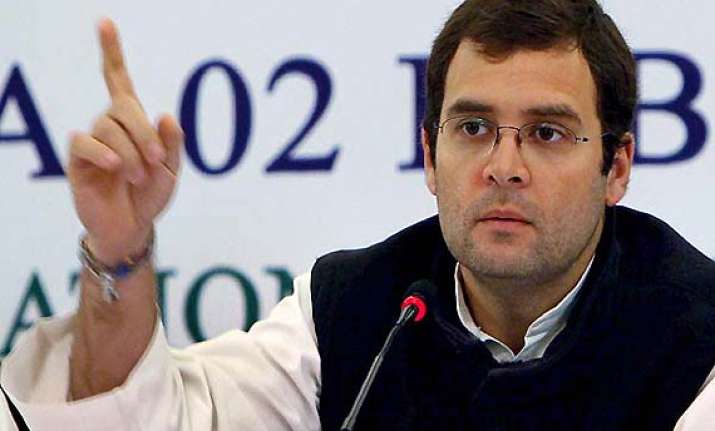 Udaipur/Kailashahar, Nov 10: Pointing to West Bengal where the Left Front was removed from power after three decades, AICC general secretary Rahul Gandhi today said it would meet the same fate in Tripura in the 2013 assembly elections for non-performance.

"The CPI(M) was ousted from Kerala and West Bengal. Now it is the turn of Tripura to oust the Left Front from power," Rahul told public meetings here.

Stating that the CPI-M was still living in the past, the Congress leader said they should remember that the communists in Russia were thrown out and the Marxists in Tripura would meet the same fate.

He also alleged that the the Tripura government was not adhering to the Communist Manifesto. 

"The manifesto of the Communist Party speaks of development and uplift of the poor and working class people, but the Communist government in Tripura is not working in this direction," Rahul said.

Alleging that a large chunk of central funds were "pocketed" by the "Communists and corrupt bureaucrats", he said, "It is unfortunate if the funds in flagship programmes by the Centre do not reach the people."

"Despite the Centre pumping in huge funds no infrastructure is being built. People are not getting proper healthcare, no roads or schools are being built. Despite the tall claims of development by the CPI(M) rulers here, none of their claims are reflected on the ground," he said. 

Quoting his father and former Prime Minister Rajiv Gandhi that not even 15 per cent of government money was being spent in the country, Rahul said it was a "reality even now". 

Citing statistics, he said, "The Central government under flagship programmes provided funds for development of the state. But only 15 per cent of Central funds are being spent and rest are siphoned off."

He said, 30 per cent of the money from the government exchequer was to be spent for development of tribals, but in reality, not even 15 per cent was being spent in Tripura. 

"The Central government had introduced MGNREGA for eradicating poverty and assured 100 days employment guarantee which was unique in the world, but the Left Front government is not properly implementing it," he said. 

"This money is not the Central government's money, it is people's money which is supposed to be spent for infrastructure development, for education, healthcare and shelter to the people," Rahul said.

He said, Delhi, Maharastra, Kerala, Punjab, Haryana, Assam were forging ahead because they were spending funds for development.

"If you unitedly fight to drive out the Communists from power here, I shall stand by you and extend whatever support you need," he said.