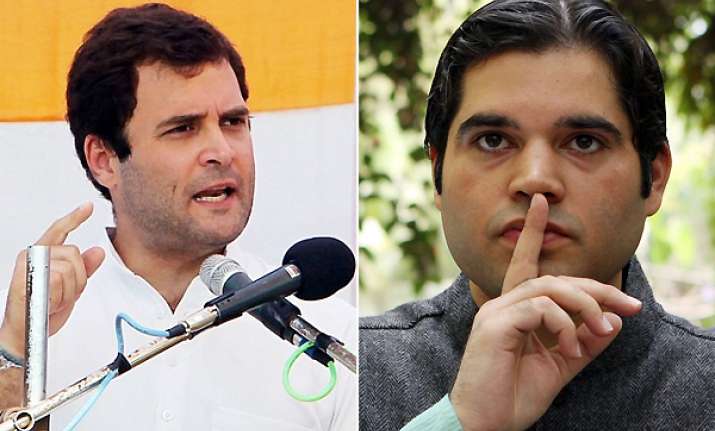 Pilibhit, UP, Dec 30: Congress general secretary Rahul Gandhi on Thursday took on his cousin Varun Gandhi in the latter's constituency of Pilibhit saying that the BJP leaders are "dealers of Sri Ram".

Addressing a rally here on the fourth day of his contact programme,  Rahul Gandhi said : "The BJP seeks votes in the name of gods. They are dealers of Sri Ram. They believe in the politics of religion and hurt the sentiments of common men. But we believe in the politics of development."

Rahul Gandhi reminded the Muslim voters in the constituency that the Congress has ensured 4.5 per cent reservation  for Muslims within the 27 per cent OBC quota.

"Mulayam Singh Yadav thinks he is a sympathiser of Muslims, but he never included this in his party manifesto", said Rahul Gandhi.

Earlier, at a rally in Shahjahanpur, Rahul Gandhi said: "Mayawati is a coward who lives in a house with 40-feet high boundary walls. She doesn't meet people. But when we tabled the Right to Food Bill in Parliament, she said it would be of no use to the people. She called it drama (nautanki)".

Asking the people to think about Mayawati government's performance in the last five years, Rahul gandhi said:  "There is only one place where the nautanki is on - and that is in Lucknow."