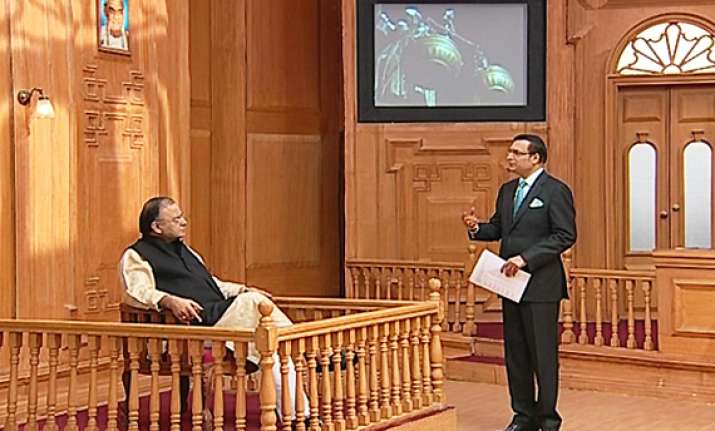 New Delhi, Feb 25: Senior BJP leader Arun Jaitley on Saturday claimed that Congress party is suffering from Ramdev Phobia and midnight police action on Ramdev's supporters at Ramlila Ground was the result of this phobia.  

Jaitley told Rajat Sharma's Aap Ki Adalat show on India TV that he disagreed with the Supreme Court for holding Ramdev responsible for contributory negligence.

He claimed that Ramdev could not be held equally responsible. Then by the same measure, Mahatma Gandhi would be held equally responsible for the atrocities of the British during the freedom struggle.

Pressed by Rajat Sharma on BJP having leveled charges of double standard on corruption by citing an example of tainted Babulal Kushwaha being inducted into the party fold, Jaitley pointed out that there was no case registered against him the day before he joined BJP and even today, there is no case against him.

On asked if BJP is missing big face in UP as BSP has Mayawati, Congress has Rahul Gandhi and SP has Mulayam and Akhilesh Yadav, he replied, "the UP election is in the strong hands of leaders like Uma Bharti, Rajnath Singh, Kalraj Mishra, Surya Pratap Sahi and Om Prakash Mishra. These veteran leaders are very influential in the state. Uma Bharti is from Bundelkhand."

On being grilled about Narendra Modi not campaigning in UP, he clarified by saying that the Sadbhawana movement kept him away from campaigning in UP. We want him to come and campaign provided he get time from his busy schedule.

On Sushma Swaraj he said that she has been travelling all over UP. Initially she was not able to visit the state before the campaigning started as she was down with viral and had to skip it.

The BJP leader denied the charge that his party was trying to take political advantage out of Anna movement saying his party supports every individual and organization that stands against corruption.

Do not miss Rajat Sharma's Aap Ki Adalat with Arun Jaitley on India TV on Saturday February 25 at 10 pm and on Sunday February 26 at 10 am and 10 pm.